Events
Industrial Strength Bluegrass Festival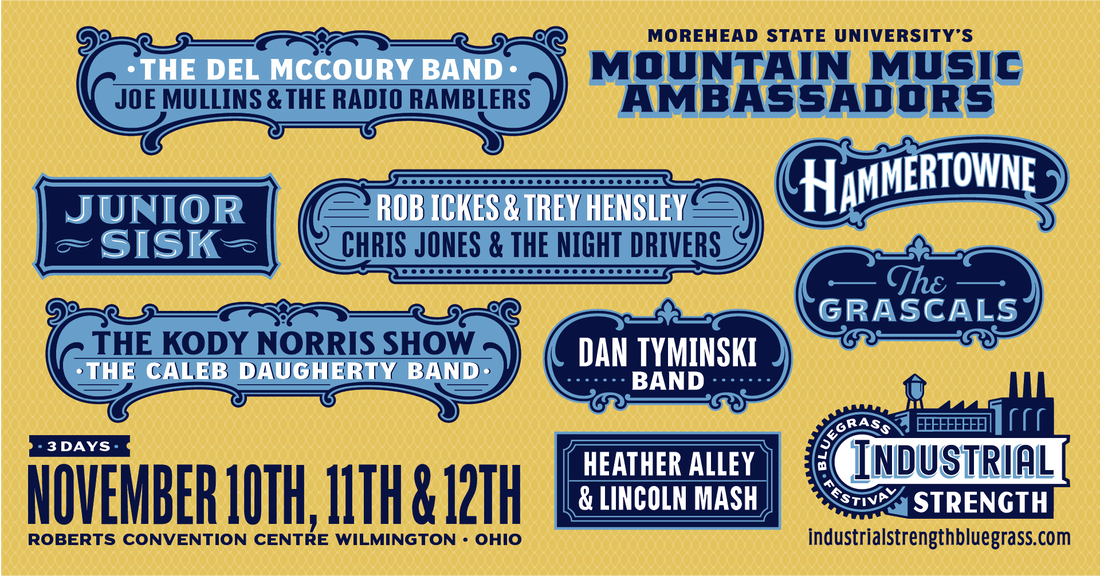 The Industrial Strength Bluegrass Festival​is now a three-day indoor music festivalfeaturing the best in bluegrass and American roots music. Join us at the Roberts Convention Centre in Wilmington, OH every fall and spring.
The Industrial Strength Bluegrass Festival showcases nationally recognized acoustic music ensembles, including bluegrass music pioneers, as well as a selection of up and coming artists. Our mission is to provide entertaining, smoke-free, and alcohol-free bluegrass, old-time, gospel, and roots music, as well as family fun and educational activities.

Hosted by Joe Mullins & The Radio Ramblers

Thanks To our sponsors!

Keep up with the latest festival news!  Fill out the form below to join our mailing list and receive all the latest news.
This term refers to bluegrass music that originated in or is associated with southwestern Ohio. Dr. Neil V. Rosenberg, a member of the Bluegrass Hall of Fame, coined the word over thirty years ago to describe the music created by Appalachian immigrants who settled in the Cincinnati/Dayton area and created music that has been recognized across the globe.  The Osborne Brothers, Jim and Jesse, Red Allen, Larry Sparks, Jimmy Martin and other Bluegrass Hall of Fame members lived and performed in  the Miami Valley for a portion of their careers. In Ohio recording studios, Flatt and Scruggs, The Stanley Brothers, Dave Evans, and many more recorded.  The Boys From Indiana, The Allen Brothers, and The Radio Ramblers, among others, started their careers in this area. And Joe's father, the late Paul "Moon" Mullins, broadcasted and performed ALL of this music and its history for decades.
Industrial Strength Bluegrass:
​Southwestern Ohio's Musical Legacy
is a new book AND new album of all-star talent presenting bluegrass songs connected to southwestern Ohio history. The Southern Ohio Indoor Music Festival has also changed its name.
Source: https://www.somusicfest.com/index.html