Events
Best places to Visit in March in India
A family vacation is a must once a year, and if it is more than that, then nothing like it! Spending quality time with parents or kids does a world of good for a family's well-being, and if that time is spent travelling to new places together, then the happiness just doubles up. March is the ideal month for travelling to different parts of the country, with the weather remaining pleasant for most part of the day.
Here we bring you a list of places to visit in March , where you may have a pleasant family holiday and come back feeling rejuvenated:
Best Places to Visit in March:
| | |
| --- | --- |
| Lakshadweep | Varanasi |
| Rameshwaram | Leh Ladakh |
| Havelock Island | Ranthambore |
| Vrindavan | Meghalaya |
| Almora | Kodaikanal |
| Tirupati | Hampi |
| Dehradun | Nainital |
| Mathura | Pondicherry |
| Cherrapunji | Darjeeling |
| Bhedaghat | Mangalore |
| Agra | Jaipur |
| Amritsar | Gokarna |
| Wayanad | Palakkad |
| Udaipur | Kumaon |
| Munnar | Manipur |
| Coorg | Mahabaleshwar |
| Sikkim | Mcleodganj |
| Ooty | |
1. Lakshadweep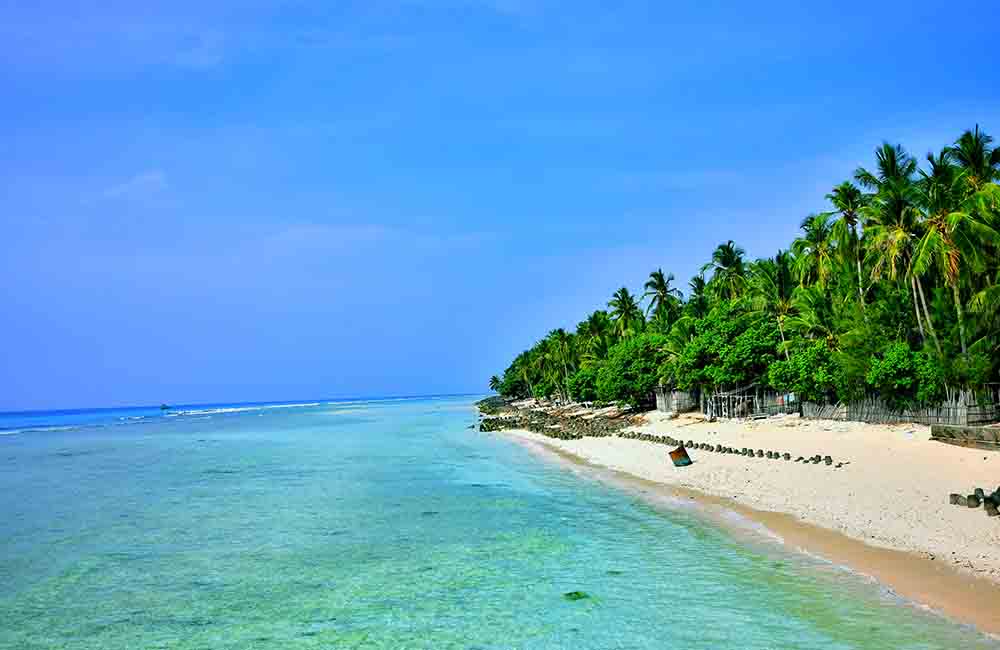 Blessed with nature's beauty, the Lakshadweep group of islands is a dream destination for travelers. Located approximately 400 km off the western coast of India in the Arabian Sea, Lakshadweep comprises 36 islands, including 3 reefs, 12 atolls and 5 submerged banks, of which only 10 are inhabited. Its serene beaches lined with swaying palm and coconut trees give a wonderful sense of calmness. To get into Lakshadweep and visit its islands, you need to get a permit from the concerned authorities in Kochi.  
Places to Visit in Lakshadweep: Agatti, Minicoy, Bangaram, Kalpeni, Kavratti, and Kadmat Islands
Things to Do in Lakshadweep: Scuba dive, parasail, kayak, canoe, and pedal boat on Lakshadweep's tranquil beaches, visit the Marine Museum in Kavratti, and take a yacht tour.
2. Rameshwaram, Tamil Nadu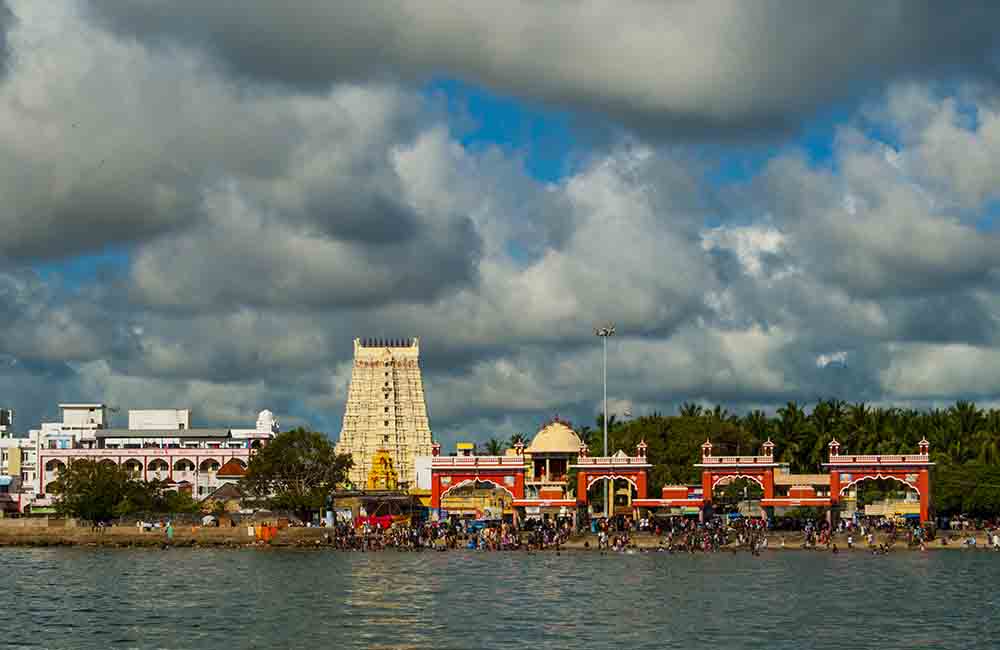 Counted among the holiest places for Hindus, the city of Rameshwaram in Tamil Nadu is situated on a serene island and separated from Sri Lanka by only a small channel of Pamban Island. The significance of this place has its roots in Hindu mythology – it is believed that this is the place where Lord Rama built a bridge to reach Lanka with his army to defeat the demon king, Ravana. There are some magnificent temples in this city that are flocked by devotees round the year.  
Places to Visit in Rameshwaram: Rameshwaram Temple, Pamban Bridge, Kalam National Memorial, Agnitheertham, Dhanushkodi Temple & Beach, Ariyaman Beach, Five-faced Hanuman Temple, Annai Indira Gandhi Road Bridge, Kothandaramaswamy Temple,
Things to Do in Rameshwaram: Pamban Bridge's glass boat ride, silk sarees, and Sea World Aquarium are must-sees.
3. Havelock Island, Andamans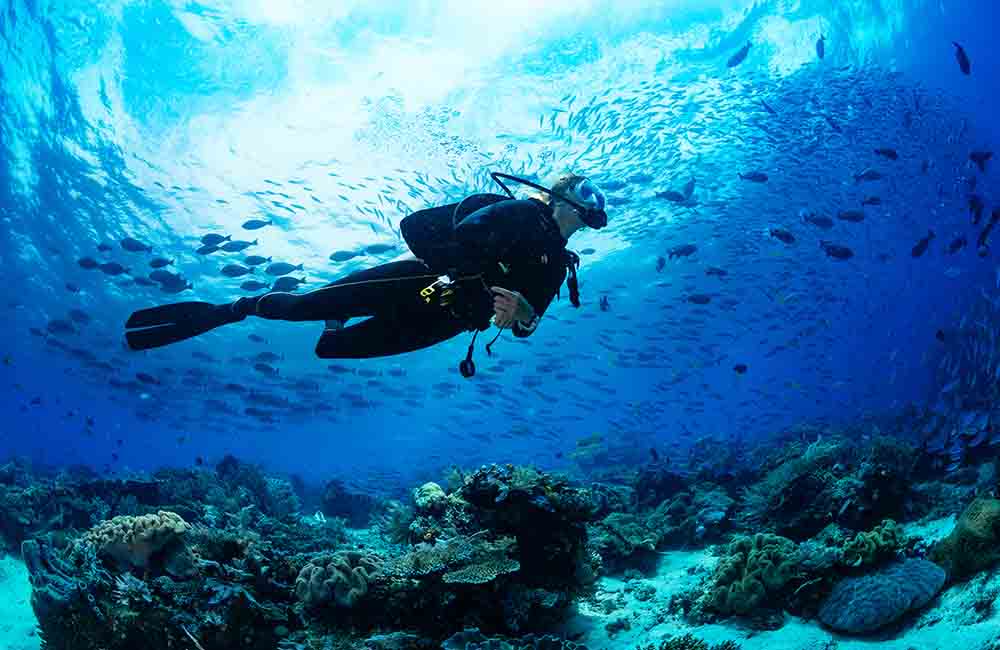 One of the largest and most scenic parts of the Andaman and Nicobar group of islands is the Havelock Island. When it comes to tourism on the islands of Andaman and Nicobar, Havelock is the most developed and most visited of all. Consisting of five villages and Ritchie's Archipelago, Havelock is popular among national as well as international tourists owing to its crystal blue waters, lush greenery and silky sandy beaches. On a visit to Havelock Island, make sure you indulge yourself in all kinds of adventure activities, especially scuba diving.
Places to Visit in Havelock Island: Radhanagar, Bharatpur, Elephant, Kalapathar, Laxmanpur, Sitapur, and Vijaynagar beaches
Things to Do in Havelock Island: Snorkel and walk at Elephant Beach, take an open water scuba diving course, and adventure trek in Chidyatapu.
4. Vrindavan, Uttar Pradesh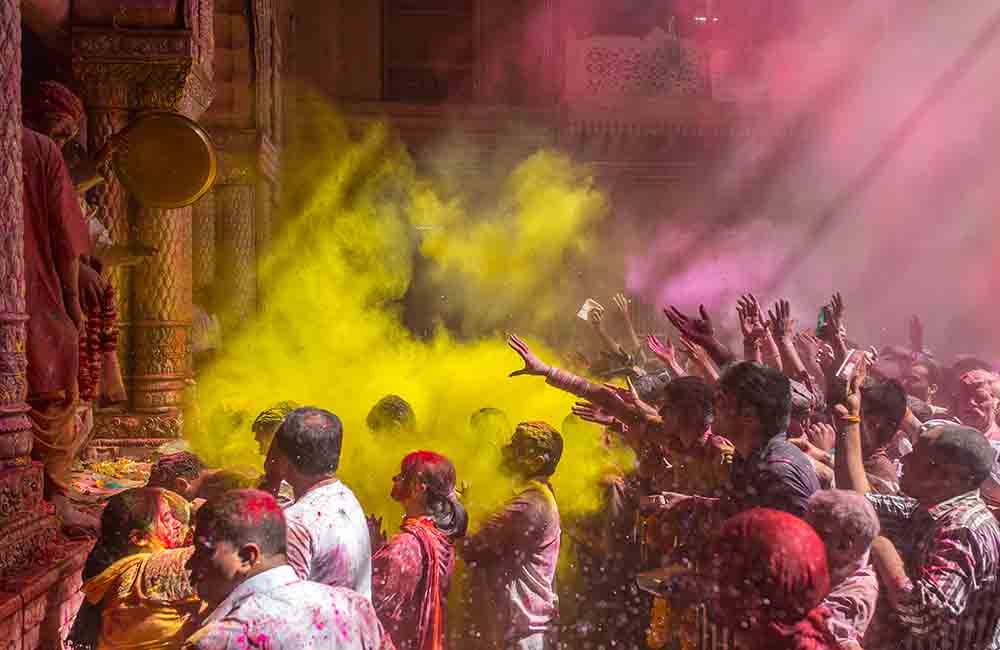 Hundreds of Hindu pilgrims visit Vrindavan everyday. Vrindavan Uttar Pradesh, one of India's oldest towns, is where Lord Krishna is said to have grown up on the Yamuna River. Visit the city's temples—they're important. In March, Vrindavan hosts its famous Holi festivities.  
Places to Visit in Vrindavan: Prem Mandir, Bankey Bihari Temple, ISKCON, Rangaji, Madan Mohan, Jaipur, Nidhivan, Katyayani, and Kesi Ghat
Things to Do in Vrindavan: Shop in local bazaars, see temples decorated for Holi, play Holi with locals, and eat Holi sweets.
5. Almora, Uttarakhand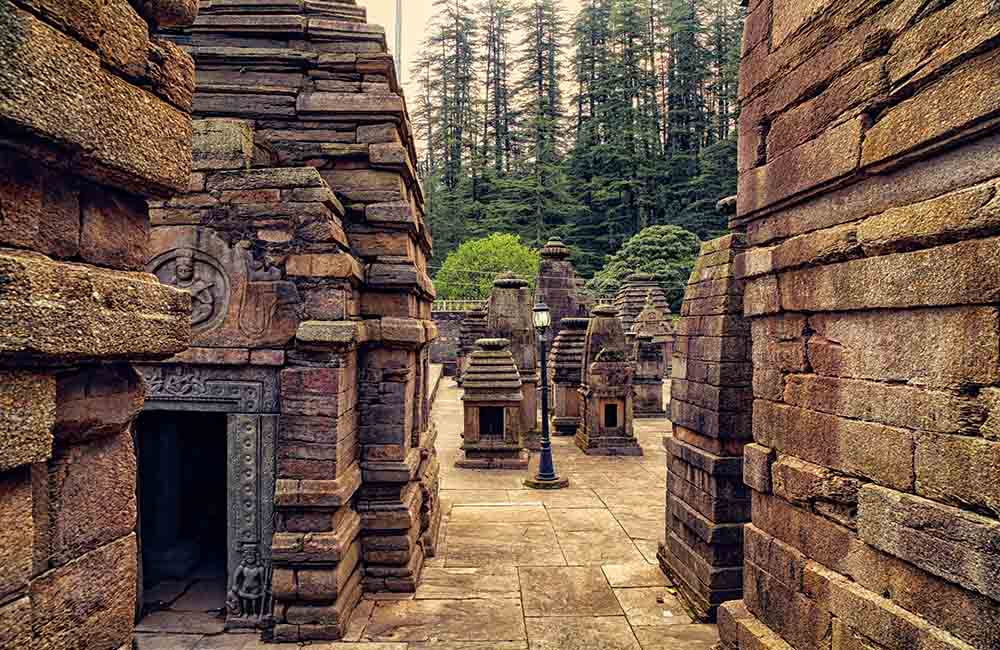 Enveloped by the mighty Himalayan mountains, the quaint hill town of Almora in Uttarakhand is perfect for a family getaway in March. Its landscape is such that you can't stop admiring it, the moment you see it. Over the years, the town has made a name for itself among tourists, courtesy of its natural beauty and rich flora and fauna. On a trip to Almora, you must explore the region's biodiversity, besides paying respects at the revered shrines in town.
Places to Visit in Almora: Jageshwar, Kasar Devi Temple, Zero Point, Katarmal Sun Temple, Chitai Temple, Bright End Corner, Dwarahat,
Things to Do in Almora: Visit Binsar Wildlife Sanctuary, Lal Bazaar, Deer Park, and Gobind Vallabh Pant Museum.
6. Tirupati, Andhra Pradesh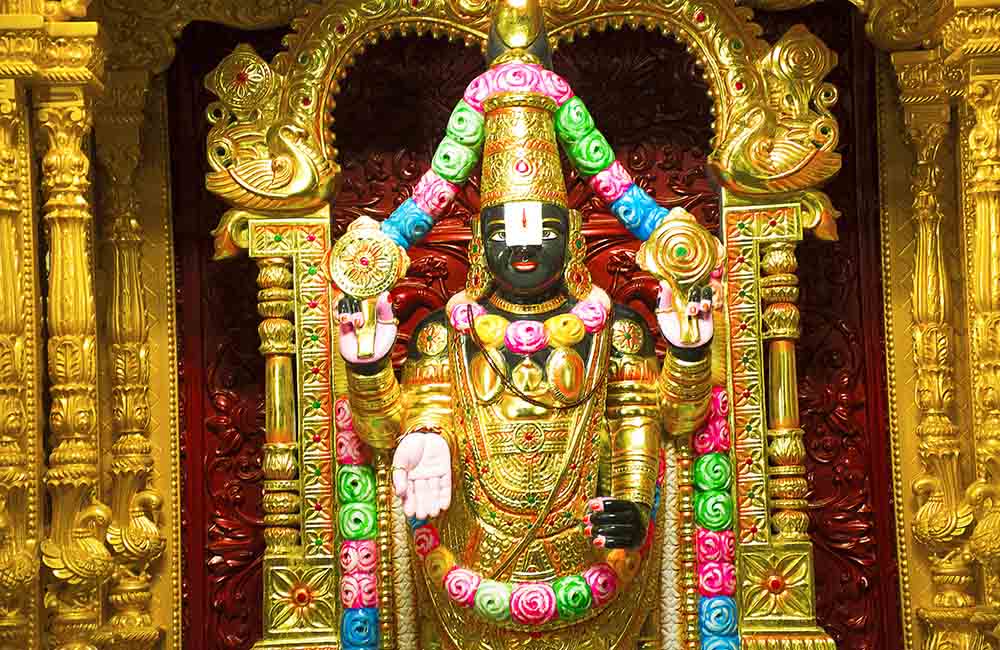 South India's most respected pilgrimage destination, Tirupati, draws hundreds of people daily. Tirupati, in Andhra Pradesh, is home to various historic temples, monuments, and cultural sites, but its primary attraction is Sri Venkateshwara Temple atop one of the seven peaks of Tirumala Hills. If you want to bring your family to Tirupati, book your accommodation early.  
Places to Visit in Tirupati: Sri Venkateshwara Temple, Swami Pushkarini Lake, Akasganga Teertham, Sri Padmavathi Ammavari Temple, Sri Varahaswami Temple, ISKCON Temple, Sri Kalahasti Temple,
Things to Do in Tirupati: Enjoy Rock Garden, Talakona Waterfalls, and South Indian cuisine.
7. Dehradun, Uttarakhand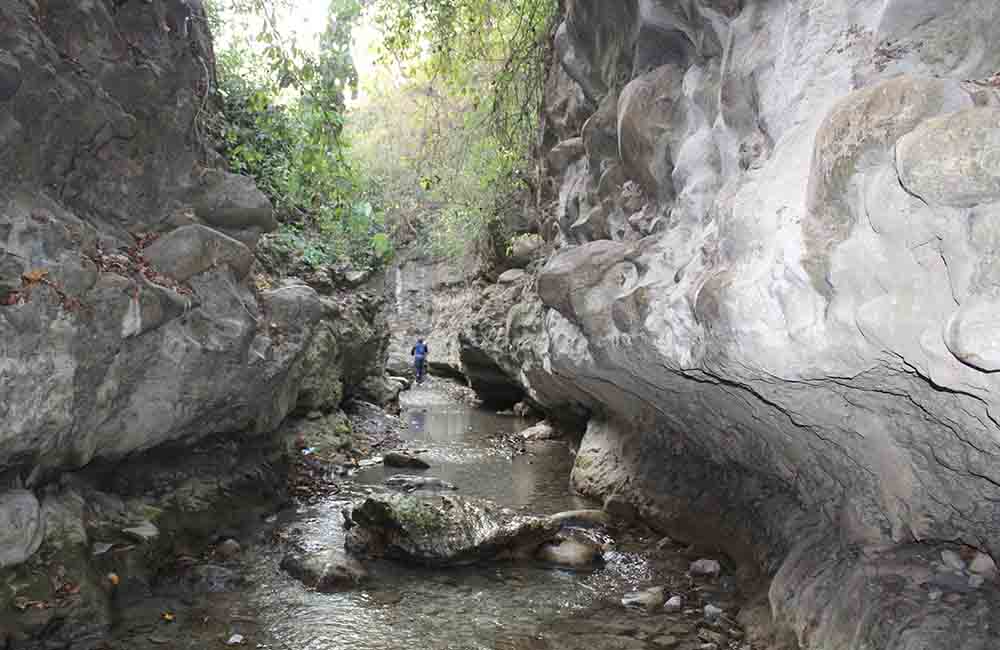 Dehradun, in Uttarakhand's Doon Valley, is a famous hill station for families. The Garhwal Himalayas and mild temperature make Dehradun a popular holiday spot. In this wonderful city, you may enjoy nature, adventure, and shopping.  
Places to Visit in Dehradun: Sahastradhara, Mindrolling Monastery, Malsi Deer Park, Tapkeshwar Temple, Tapovan Temple and Robber's Cave
Things to Do in Dehradun: Visit Zonal Museum, Paltan Bazaar, Doon Valley, and local amusement parks.
8. Mathura, Uttar Pradesh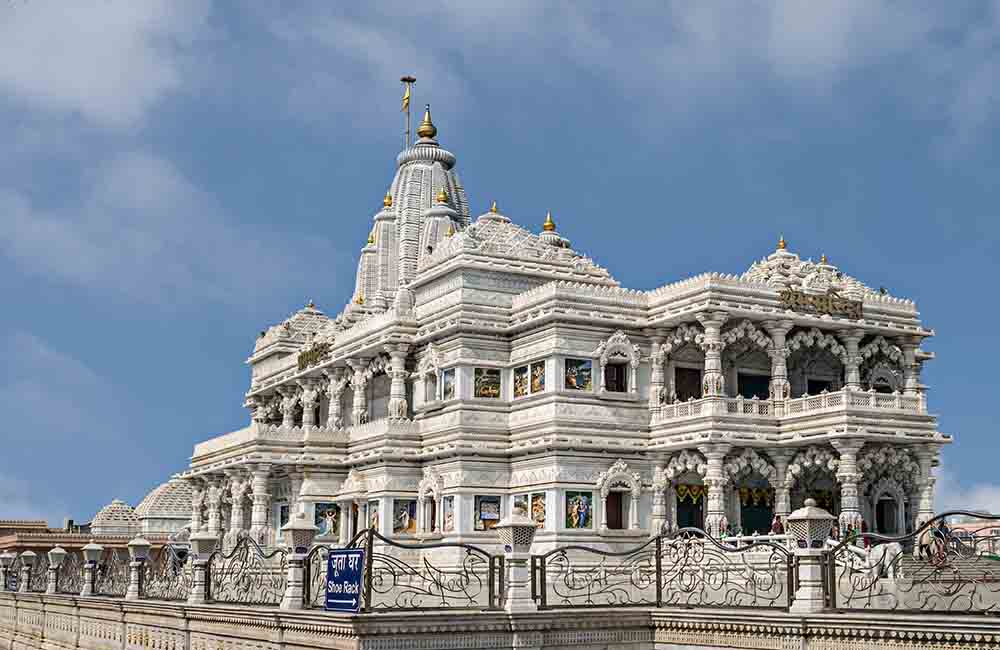 Mathura is revered by Hindus as the birthplace of Lord Krishna. Mathura attracts many worshipers with its many Krishna temples. If you adore Holi, this city in March is for you!  
Places to Visit in Mathura: Govardhan Hill, Dwarkadhish Temple, Krishna Janmasthan Temple, Birla Mandir, Rangji Temple, Jama Masjid, Vishram Ghat, Bhuteshwar Mahadev Temple,
Things to Do in Mathura: Play Holi in the grandest manner, visit the Government Museum, enjoy at Dolphin – the Water World, relish the street food of Mathura, and take a boat ride at Vishram Ghat
9. Cherrapunji, Meghalaya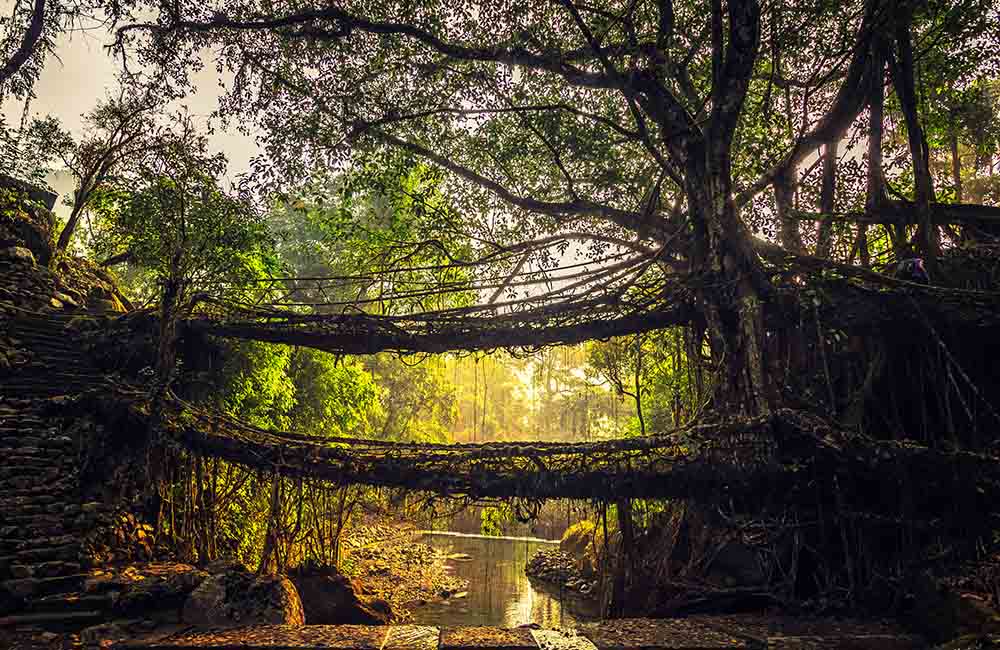 One of the wettest places on the globe, Cherrapunji in Meghalaya is the perfect place to visit in the month of March. The gushing waterfalls, the cool and pleasant winds, and the chance to witness verdant rolling hills and explore the pristine beauty of the place are some things that will really make you and your family asking for more. A must-visit attraction in Cherrapunji is the natural Double Decker Living Root Bridges, and so is a trip to Asia's cleanest village – Mawlynnong.  
Places to Visit in Cherrapunji: Double Decker Living Root Bridges, Nohkalikai Falls, Dawki, Krem Phyllut, Mawsmai Nongthymmai Eco Park, Wakaba Falls, Dainthlen Waterfalls.
Things to Do in Cherrapunji: Visit Asia's cleanest village – Mawlynnong, trek to Living Root Bridges, and explore the Mawsmai Cave
10. Bhedaghat, Madhya Pradesh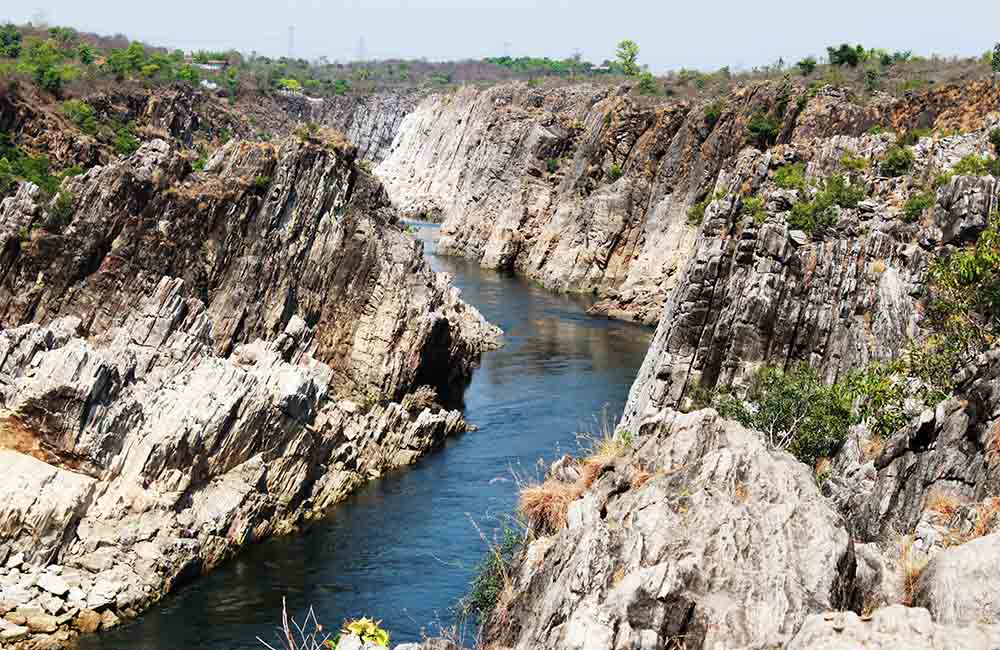 In Madhya Pradesh, Bhedaghat is a must-see. The Marble Rocks on each side of the Narmada River are the most impressive sight. The sunshine illuminates these 100-foot marble rocks. Bhedaghat's additional tourist attractions include a boat journey on the river to see these rocks.  
Places to Visit in Bhedaghat: Marble Rocks, Dhuandhar Falls, Chausath Yogini Temple, Balancing Rock, Bargi Dam,
Things to Do in Bhedaghat: Visit Bhedaghat markets for marble handicrafts, Dumna Nature Reserve Park, a cable car ride, and Marble Rocks for an exhilarating boat excursion.
11.  Agra, Uttar Pradesh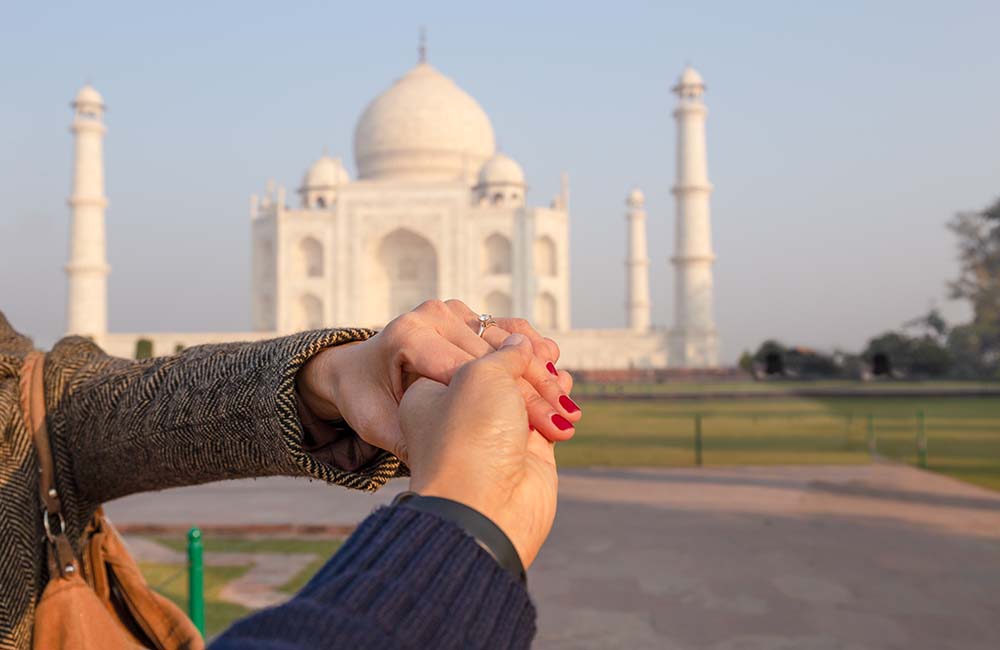 Though the mere mention of Agra conjures up the image of the Taj Mahal, and the two other UNESCO World Heritage sites – the Agra Fort and Fatehpur Sikri, this erstwhile Mughal capital has so much more to offer to the curious traveller. From Mughal gardens to tombs showcasing the influence of Persian architecture to numerous by lanes teeming with history, Agra can be at once mesmerising and refreshing. Since, Taj Mahal calls both domestic and international tourists in abundance, hotels in Agra are always full to capacity hence, making an advance booking is advisable.
Places to visit in Agra: I'timād-ud-Daulah's Tomb, Chini ka Rouza, Jahangir Mahal, Jama Masjid, Akbar's Mausoleum
Things to do in Agra: Visit Kinari Bazaar, Mehtab Bagh, the Kalakriti Cultural and Conventional Centre, and the city's Mughlai restaurants.
12. Amritsar, Punjab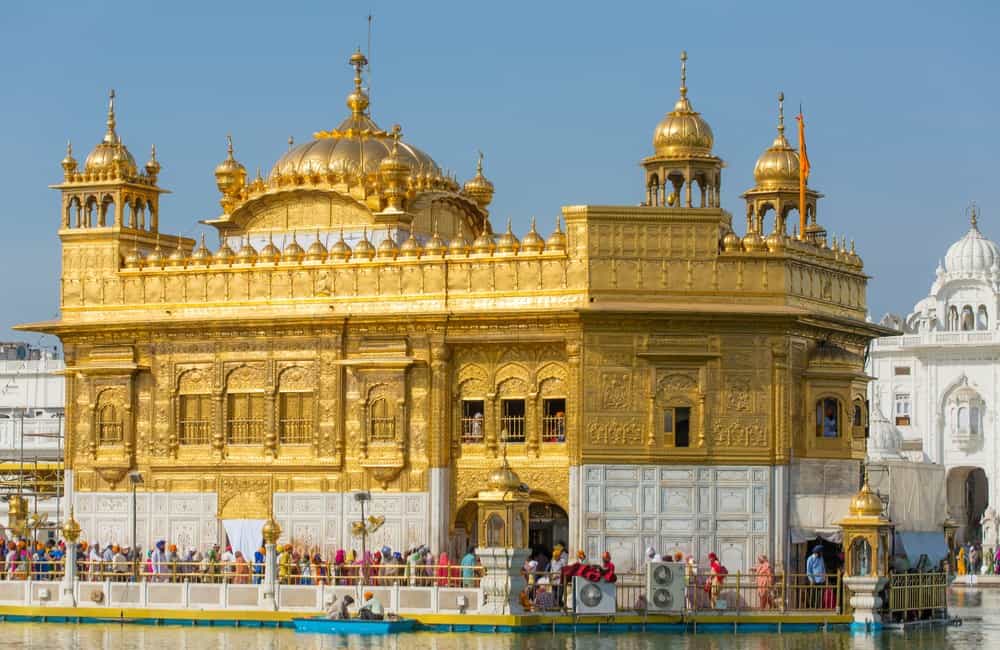 Devotees from around the world flock to this city to seek blessings at the magnificent Golden Temple, and bathe in its sacred waters. Amritsar is also home to the Jallianwala Bagh monument and the legendary summer palace of Maharaja Ranjit Singh. It's also the city from which you can make a trip to the Wagah Border to see the heart-stopping Beating Retreat Ceremony that happens at sundown every day. If you want to learn more about the history and culture of Punjab, stay at one of the centrally located hotels in Amritsar.
Places to visit in Amritsar: Gobindgarh Fort, Ram Tirath, Akal Takht, Partition Museum, Maharaja Ranjit Singh Museum
Things to do in Amritsar: Hall Bazaar, Harike Wetlands, the War monument, and Kesar Da Dhaba are all worth a visit.
13. Wayanad, Kerala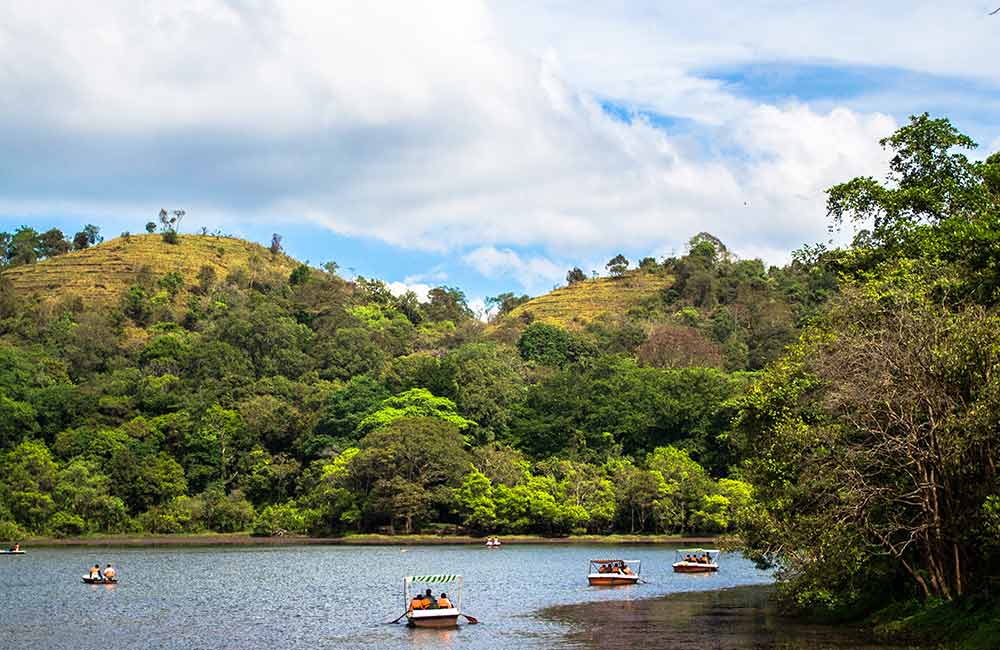 Wayanad is many things. It is the green paradise, spice garden of the south and the home of monsoons. If that is not enough, the region also has wildlife sanctuaries inhabited by elephants, tigers, cheetahs, bison, etc. Book a safari at the Muthanga Wildlife Sanctuary to spot them all in their natural habitat. For the nature lovers, follow Wayanad's nature trail and be spellbound by the lush greenery, streams, rare exotic birds (if you can spot any) of this quaint paradise. It is one of the best places to visit in India in March .
Places to visit in Wayanad: Wayanad Wildlife Sanctuary, Banasura Sagar Dam, Neelimala Viewpoint, Thirunelli Temple, Tea Estate Tour, Soochipara Falls
Things to do in Wayanad: Bamboo raft at Kuruva Island, spelunk at Edakkal caves, boat at Pookode Lake, camp and zipline on the hills, walk to Chembra mountain, bike about town, live in a tree home.
14. Udaipur, Rajasthan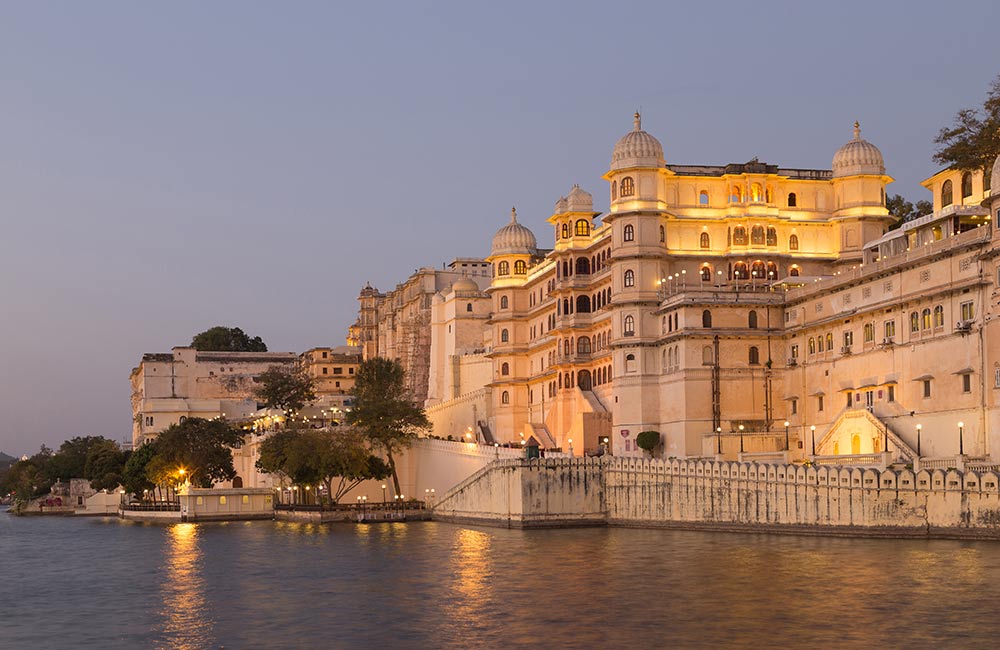 Udaipur, also known as the City of Lakes, is one of the most spectacular cities in the country. The majestic palaces are a real treat. The City Palace stands tall as the largest in Rajasthan and reflects the region's royal past. The Summer Palace floats on Lake Pichola hence also known as the Lake Palace. The grand interiors embellished with paintings, carved artefacts and stone work  might just transport you to a period film. If you are planning a visit here, look for hotels in Udaipur online to get the best money saving deal.
Places to visit in Udaipur: Jag Mandir Palace, Saheliyo Ki Bari Garden, Bagore-Ki-Haveli, Sajjangarh Wildlife Sanctuary, Karni Mata, Vintage Car Museum,
Things to do in Udaipur: Take the ropeway, boat tour, and Sheesh Mahal supper.
15. Munnar, Kerala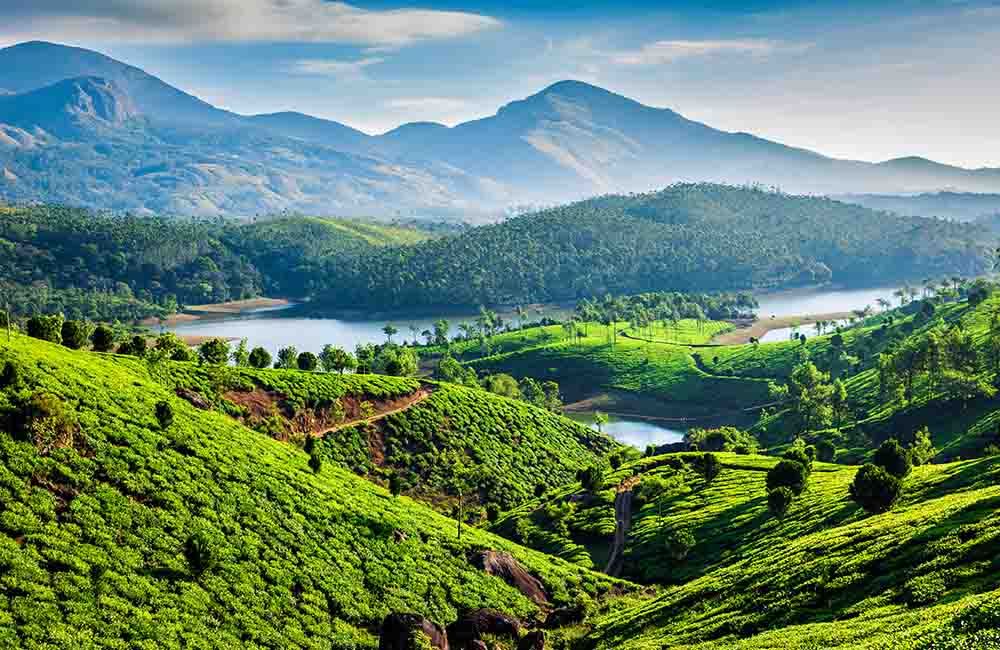 Imagine the number of times you can enjoy chai at Kerala's tea capital. Munnar is located in the Western Ghats and with tea estates that run miles. The town is a visual treat any time of the year. The carpet of rich green plantations against the clear blue skies makes it a photographer's paradise. So cool is the climate here that the British colonists considered it to be their summer home. Back then it was known as the High Range of Travancore.
Places to visit in Munnar: Eravikulam National Park, Lakkam waterfalls, Echo Point, Elephant hamlet, Tea Museum, spice farm, Chithirapuram Church, Kalari Kshethra, Cheeyaparra waterfalls.
Things to do in Munnar: Stay in a tree house at the plantation resort, visit Kolukkumalai tea estate, camp and walk at Echo Point, mountain bike at Suryanelli, practice water sports at Mattupetty Dam, and ride a shikara at Kundala lake.
16. Coorg, Karnataka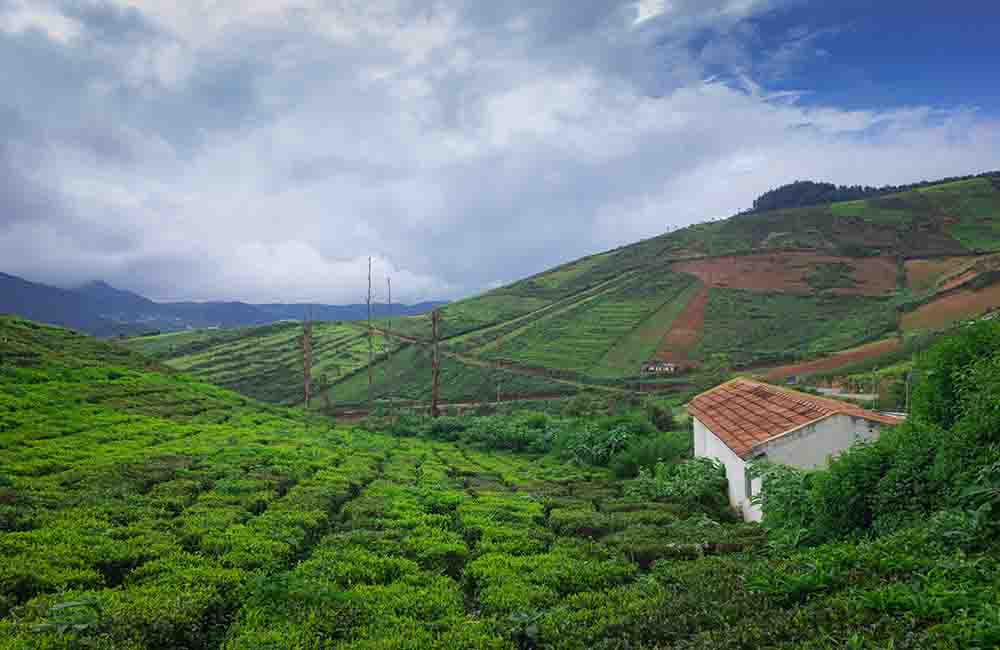 Coffee lovers! Coorg has world-class coffee. There's more. Year-round sunshine. Coorg, the Scotland of India, is perfect for nature enthusiasts, photographers, and exciting adventures. Coorgi food is mostly non-vegetarian. Coconut, curry leaves, and spices simmer the meat.
Places to visit in Coorg: Dubare elephant camp, Virajpet viewing tour, Abbey falls, coffee plantation homestay and excursions, Madikeri Fort,
Things to do in Coorg: Camping at this magnificent hill area, trekking to Tadiandamol, river rafting at Barapole, fishing at Kaveri river, Jeep safari, quad biking,
17. Sikkim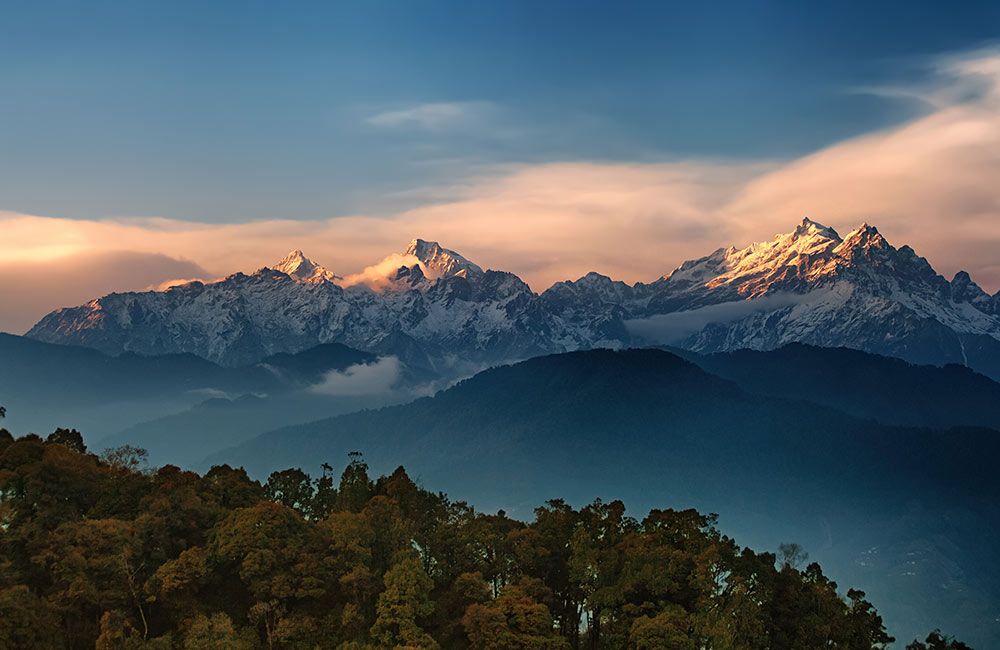 Sikkim shares a border with three countries – Bhutan, Nepal and Tibet (Autonomous region of China). Their cultural influences are visible in the food. For example, the steaming hot momos at Sikkim are a close cousin of the Tibetan momo. The Sikkimese serve their version with radish or cucumber salad. Yum! While you regale your love for momos, you can also explore the sights of the Himalayan ranges, Buddhist monasteries and the grand rivers Teesta and Rangit.
Places to visit in Sikkim: Ravangla Buddha Park, Kichipudi lake, Bakthang waterfalls, Khangchendzonga National Park
Things to do in Sikkim: Try mountain biking, camping, nature excursions, rock climbing, spelunking, and the Goechala trek in the eastern Himalayas. Ride a helicopter in Gangtok.
18. Ooty, Tamil Nadu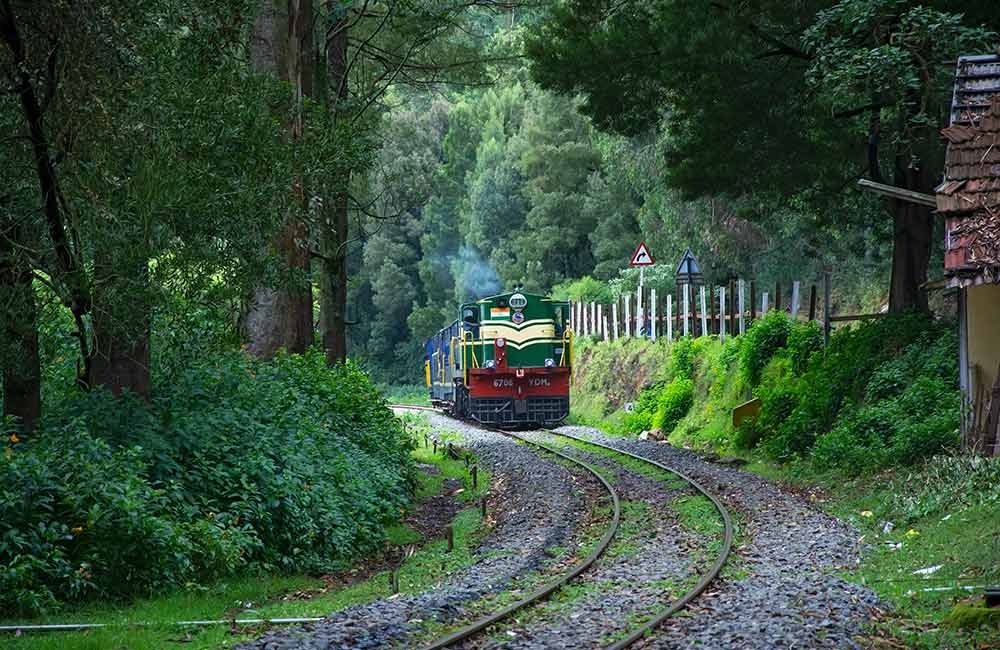 Did you know that Ooty is officially known as Udhagamandalam? Bet you didn't. Nestled in the Nilgiri Hills in Tamil Nadu, this town is rightly referred to as the Queen of Hill Stations with pleasant weather all year round. The region is famous for its lush green tea plantations. The varieties of tea flavours include masala, cardamom, jasmine and also chocolate. Ooty is one of the best places to visit during March in South India with your family.
Places to visit in Ooty: Botanical gardens, Dolphin's nose, Toda huts, Doddabetta peak, Pykara, Tea museum, St. Stephen's Church, Mudumalai National Park, Higginbothams book store
Things to do in Ooty: Trek to Kotagiri, ride the Nilgiri mountain toy railway, camp, fish, and float at Avalanche Lake.
19. Varanasi, Uttar Pradesh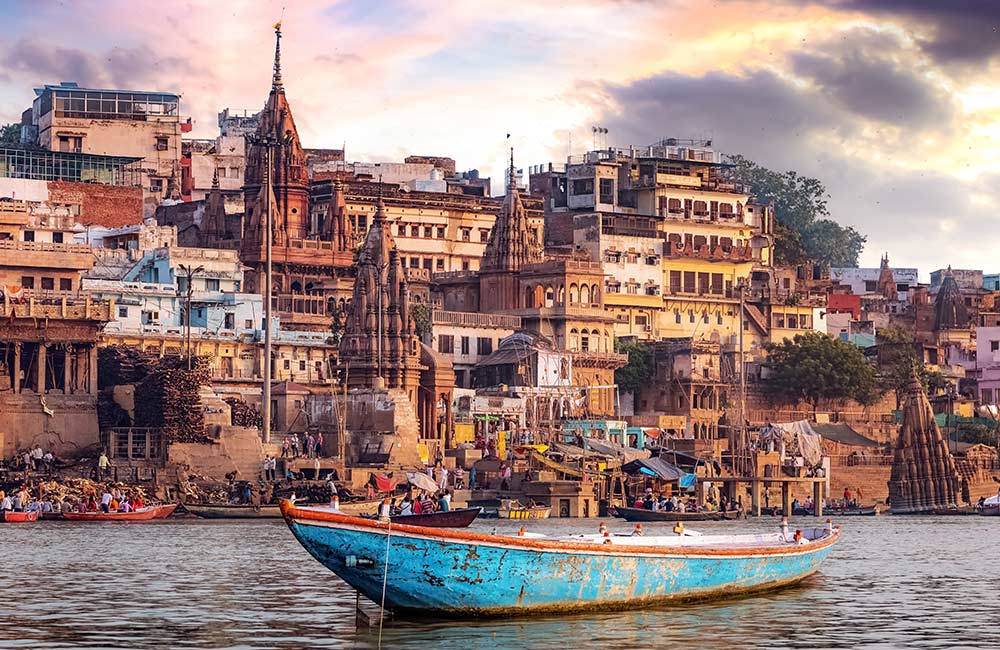 One of Hinduism's holiest places in India and the oldest inhabited cites in the world is Varanasi. People taking dip in the river Ganga to wash off their sins, goats in sweaters and burning bodies are common sights here. Attend the evening aarti to know the true reason why it is called India's City of Lights. The natives have a sweet tooth which is why you will find a sweets shop at every corner. If you must try, go for rabdi which is accompanied with sweet lassi. Delicious to the core! Most hotels in Varanasi will guide you to the best shop in the vicinity.
Places to visit in Varanasi: Kashi Vishwanath temple, Sarnath, Ramnagar Fort, Dashashwamedh Ghat, Weaver's village, Jantar Mantar
Things to do in Varanasi: Take a Ganga boat trip and buy Banarasi saris.
20. Leh Ladakh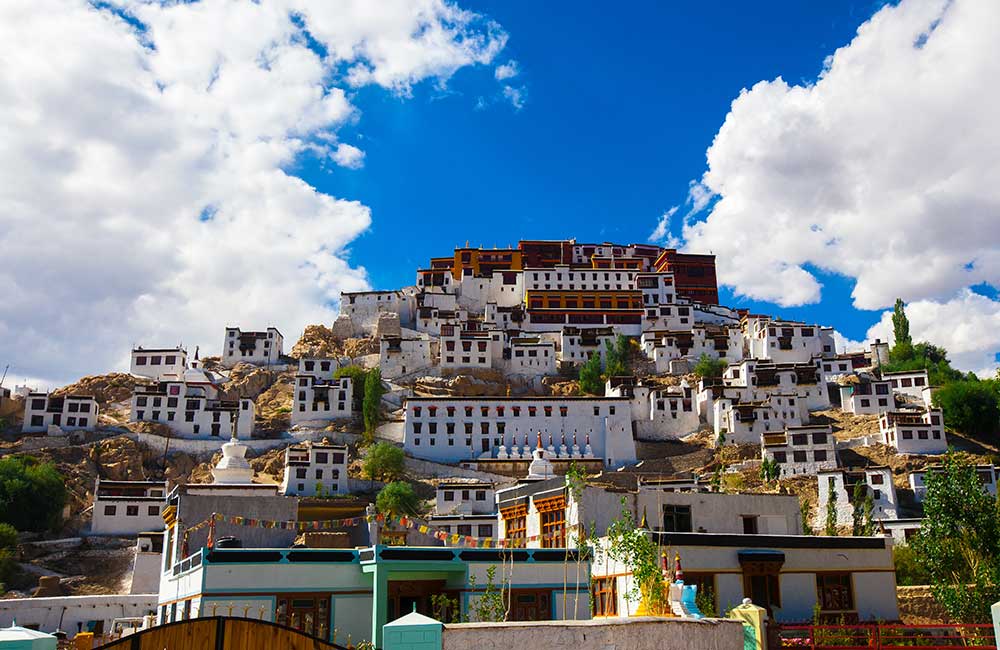 Leh Ladakh's celestial views are unmatched on Earth. It ranks high. places to visit in March in India to hike. Most places are open this month. Magnetic Hill, Leh Palace, and 18,000-foot Maggi noodles await. Rare experiences are here.
Places to visit in Leh Ladakh: Hemis National Park, Khardungla Pass, Buddhist monasteries, Hemis Monastery, Tso Moriri, Namgyal Tsemo, Nubra Valley, Donkey Sanctuary, Drang Drung Glacier.
Things to do in Leh Ladakh: Camel safari, yak cheese, Spituk Gompa or Chadar walk, Lamayuru stargazing, Pangong Tso sunrise, river rafting,
21. Ranthambore, Rajasthan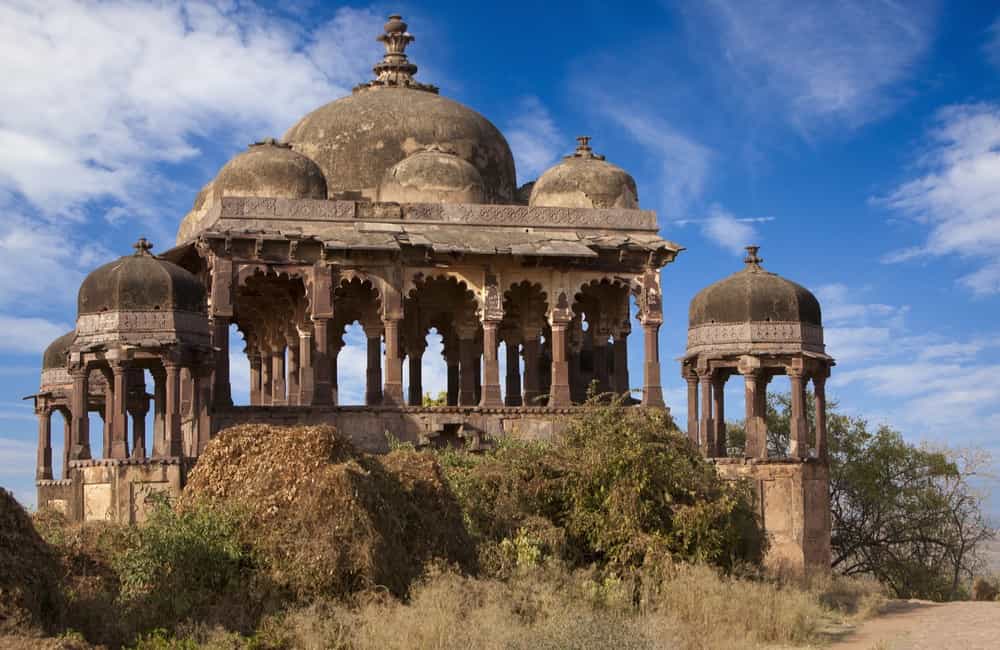 Home to the Royal Bengal Tigers, Rajasthan's Ranthambore National Park is quite the wildlife excursion. Other animals like the sloth bear, leopard, nilgai, flying fox and black buck also live here. Photographers pay heed! The Ranthambore Fort, a UNESCO World Heritage Site, is also situated in this region. So if you are looking for peaceful places to visit in India in March , Ranthambore is where you should be.
Places to visit in Ranthambore: Trinetra Ganesh Temple, Padam Lake, Kachida Valley, Jogi Mahal, Wild Dragon Adventure Park, Raj Bagh Ruins, Dastkar Ranthambore, Malik Talao.
Things to do in Ranthambore: Surwal Lake is great for birdwatching and taking photos.
22. Meghalaya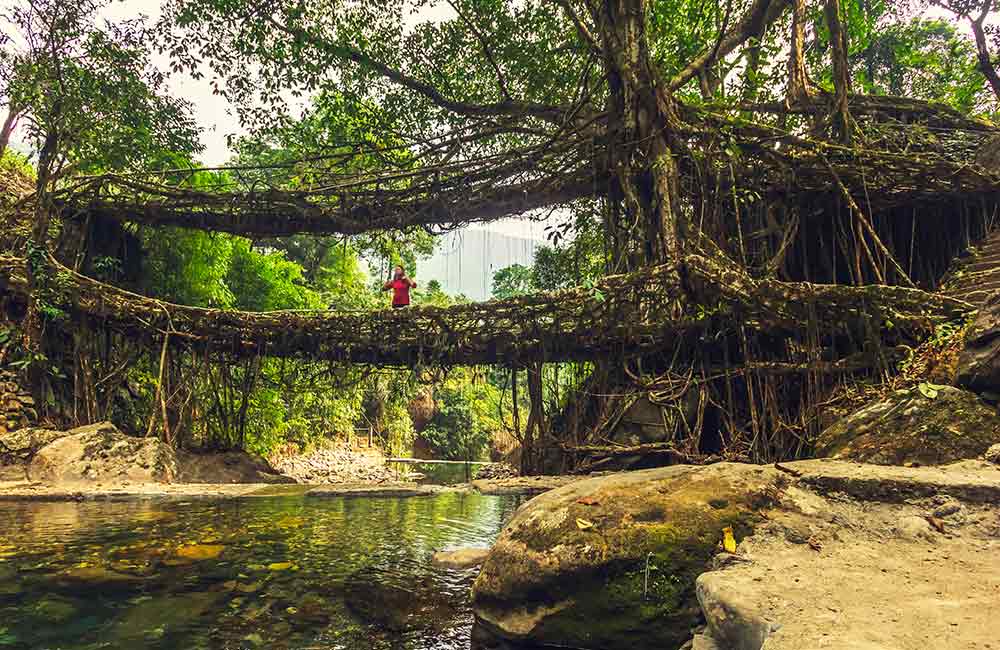 Meghalaya is a magnificent area to visit with family or friends, from its flowing waterfalls like Nohkalikai Falls and Elephant Falls to its historic capital of Shillong. Explore this lovely spot. Don't miss the world's wettest location, Khasi Hills.
Places to visit in Meghalaya: Mawsmai and Siju Caves, Mawphanlur Village, Don Bosco Museum, Dawki River
Things to do in Meghalaya: Trek to the Living Root Bridges and Laitlum Canyon, camp at Umiam Lake or enjoy water sports, stroll the David Scott route, or mountain bike in Sohliya hamlet.
23. Kodaikanal, Tamil Nadu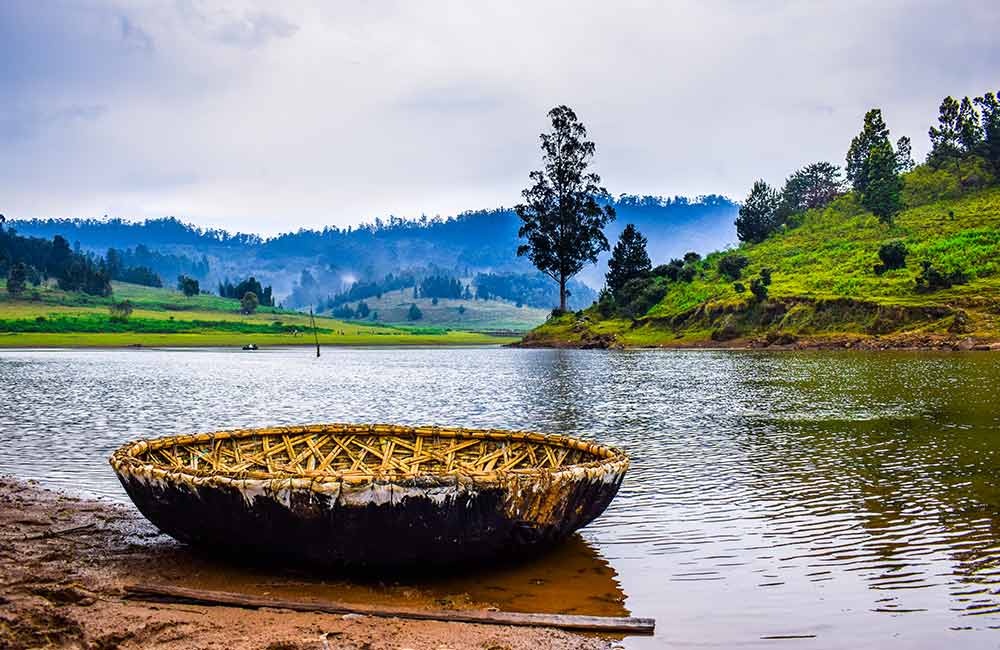 Referred to as Princess of Hills, Kodaikanal is yet another southern charm with scenic views that will have you coming back for more. This hill station is also a honeymoon favourite but what makes it more romantic is the Kurinji flower. It blooms only once in 12 years and you can see the blue beauties spread across the valley waiting to have its own Instagram page. Resorts and hotels in Kodaikanal organise special tours for visitors to spot the best of this southern heaven.
Places to visit in Kodaikanal: Kodaikanal lake, Caps Valley viewpoint, Pillars of Nature, Guna Caves, Bear Shola waterfall, Bryant Park, Pine forest, Thalaiyar falls, Kukkal caves.
Things to do in Kodaikanal: Sign up for a night safari, take a stroll at Coaker's, go birdwatching at Berijam lake, visit a Yoga retreat at Karuna Farm, opt for a swim at the Fairy falls
24. Hampi, Karnataka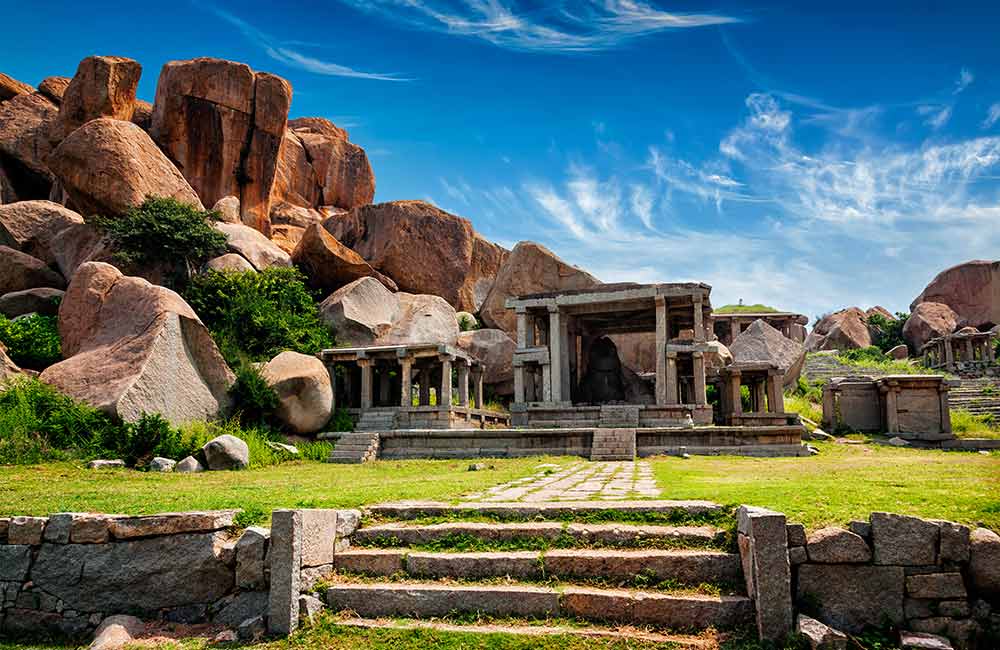 The Vijaynagar kingdom's remains are a World Heritage site. Monolithic sculptures and structures have fascinated tourists worldwide. First settled in 1st century CE. Looking for places to visit in March in India , Hampi is a great option.
Places to visit in Hampi: Virupaksha temple, Hemakuta Hill temple, Vijaya Vitthala temple, Tungabhadra river, Queen's bath, Hampi Bazaar, Narasimha statue
Things to do in Hampi: Go biking, feel the thrill of cliff jumping at Hampi's lake, take in the panoramic views from Matanga Hill
25. Nainital, Uttarakhand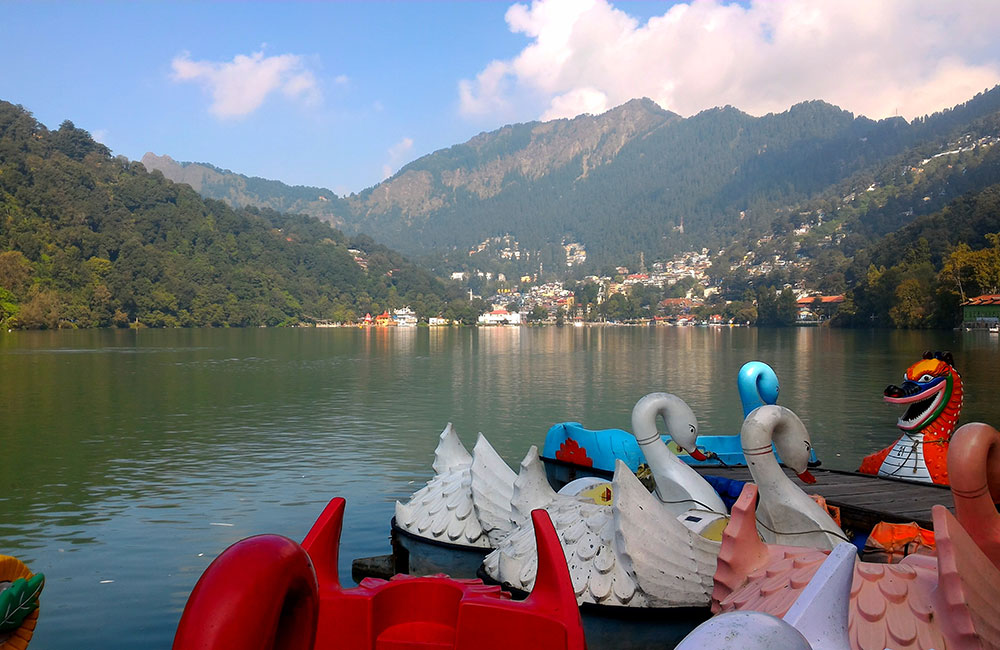 Whether it is a boat ride at Naini Lake or enjoying the Himalayan view from Tiffin Top, Nainital doesn't disappoint. Uttarakhand's beautiful hill station is flanked by mountains on three sides. It is one of the most-visited hill stations since the British era. If you have kids in accompaniment, then the Nainital Zoo is a great place to explore.
Places to visit in Nainital: Hanuman Garhi, Nainital Ropeway, Naina Devi Temple, Pangot and Kilbury Bird Sanctuary, Raj Bhawan, Corbett National Park, Cheena Peak
Things to do in Nainital: Watch the sunrise at Tiffin Top, shop at the Tibetan Market, explore adventure sports
26. Pondicherry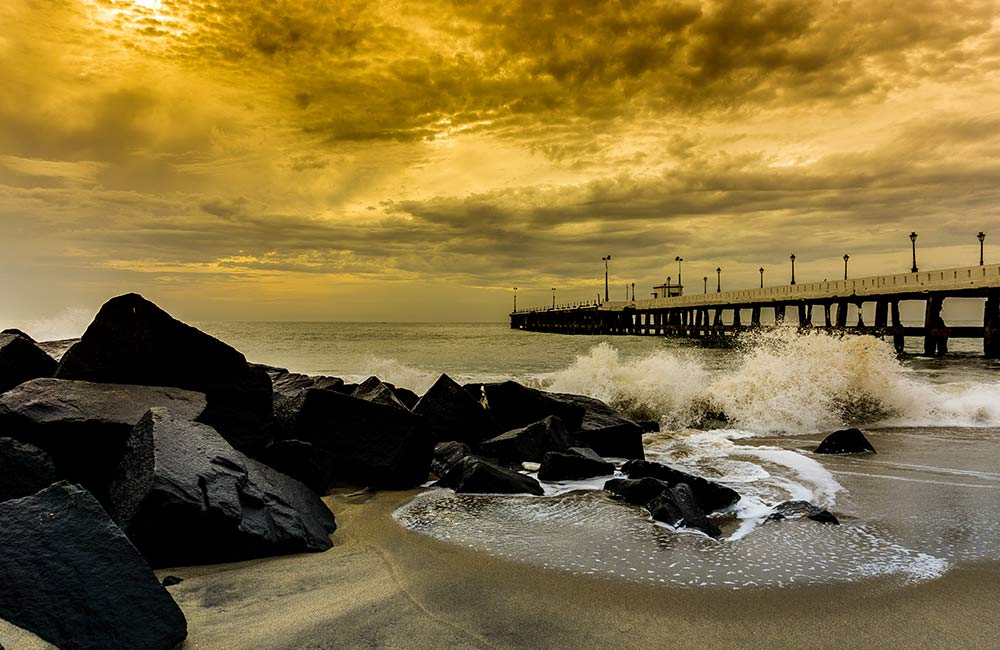 Pondicherry, a former French colony, is known for its pristine beaches the longest one being Promenade Beach. Its wide range of marine life has made scuba diving a popular excursion. The best way to explore this quaint region is on a cycle. The Aurobindo Ashram is a spiritual retreat, a must-visit for those who are interested in meditation and yoga sessions. Hotels in Pondicherry can easily arrange a day visit to the ashram upon request.
Places to visit in Pondicherry: Goubert Avenue, Auroville, White Town, Green Quarter tours, Mahe Beach, Golden Bridge Pottery Centre
Things to do in Pondicherry: Take a boat trip at Paradise Beach Island, birdwatch at Ousteri Lake, try water sports, surf at Serenity Beach, or bike about the city.
27. Darjeeling, West Bengal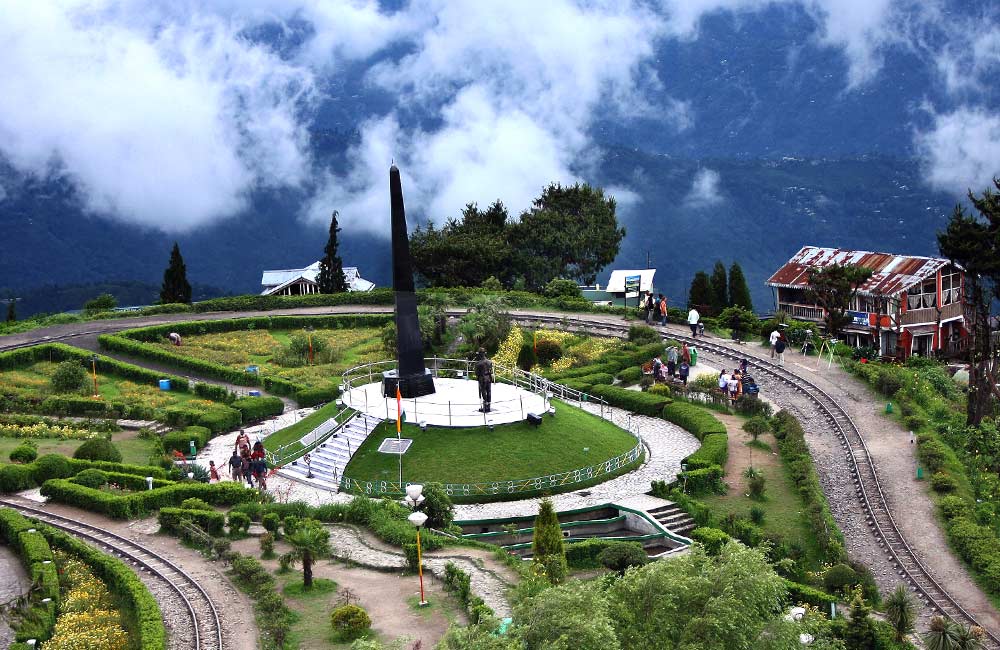 If you are looking for places to visit in March in North India Add Darjeeling now. This season is fantastic in the Queen of Hills. The area is famous for its tea farms and quality. A cup? You may view Kangchenjunga, the world's third-largest peak.
Places to visit in Darjeeling: Padmaja Naidu Himalayan Zoological Park, Ghum Monastery, Dooars Tea Gardens, Kalimpong Monastery, Peace Pagoda, Chowrasta¸ Batasia Loop
Things to do in Darjeeling: Go river rafting at Teesta river, trek to Sandakphu's Peak, enjoy the toy train ride, watch the sunrise at Tiger Hill
28. Mangalore
Mangalore attracts international travelers. Thrill-seekers are flocking to the seaside paradise for kayaking, snorkeling, surfing, and more. Mangalore has numerous beautiful temples that have been featured on Discovery and National Geographic. Mangalorean food is delicious. Try the Kori Rotti, fish Puli Munchi, and prawn Koliwada while there.
Places to visit in Mangalore: Panambur Beach, Kadri Hill Park, Sultan's Battery, Bejai Museum, Kudroli Gokarnath Temple, Pilikula Nisargadhama, Durgaparmeshwari temple, Dharmastala temple, Kaup Lighthouse
Things to do in Mangalore: Relish seafood dishes at Machli restaurant, devour ice cream at Pabba's, go for surfing and kayaking at Mulki
29. Jaipur, Rajasthan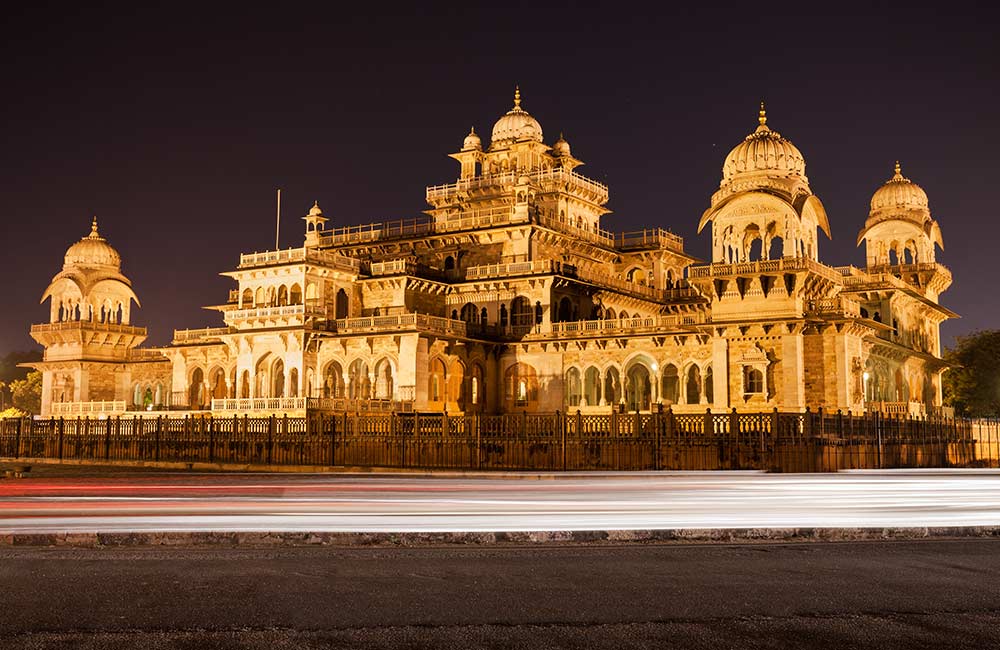 Hawa Mahal, Jal Mahal Jantar Mantar, Amer fort, etc. one breath isn't sufficient to list the number of places to see in the city Jaipur. The Pink City is full of colour, rich history and architectural marvels. Live the life of a royal when you stay at the palaces-turned-heritage hotels. But while you are there, be sure to try the delicious Dal Bati Churma and Kheer and Sangri. Once you visit, you are bound to go back with many pleasant memories and Rajasthan-inspired souvenirs.
Places to visit in Jaipur: Lohagarh Fort Resort, Nahargarh Fort, Sanctuary, City Palace, Birla Mandir, Elephantastic Elephant Farm,
Things to do in Jaipur: Watch live dance and entertainment at Chokhi Dhani, visit the Jaipur Literature Fest, have a Jeep safari, or ride a hot air balloon.
30. Gokarna, Karnataka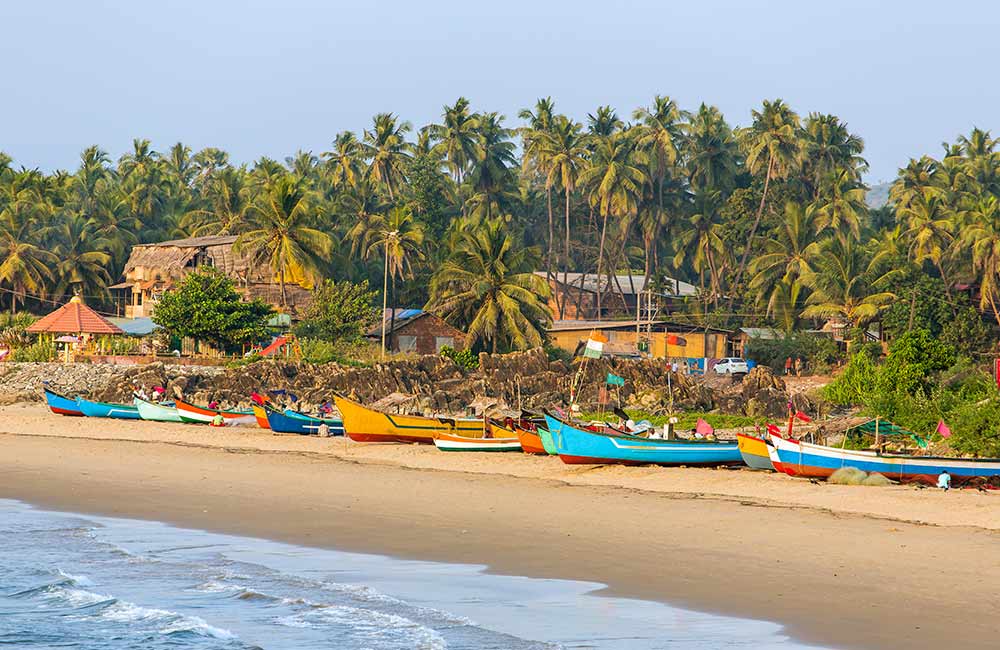 Many inexpensive vacations include Gokarna. Its famed Om Beach is as easygoing as Goa. Its seafood thalis and coconut water are renowned. Mahabaleshwara and Maha Ganapti temples draw pilgrims to the town.
Places to visit in Gokarna: Kudle Beach, Shiva Statue, Mirjan Fort, Dandeli Forest Camp
Things to do in Gokarna: Try water sports, cuisine excursions, night walks, the Flea Market, camping, or beach yoga.
31. Palakkad, Kerala
Palakkad is Kerala's gateway. This city has beautiful hills, dams, waterfalls, sanctuaries, rivers, and irrigation projects in the Nilgiri highlands. Palakkad Fort, Malampuzha, and Mangalam dams, and stunning vegetation await. Picnic at Meenkara Dam.
Places to visit in Palakkad: Palakkad Fort, Vadakkanthara Temple, Dhoni Waterfalls, Nelliyampathy hills, Silent Valley National Park, Kollengode Palace, Parambikulam Wildlife Sanctuary
Things to do in Palakkad: Go birdwatching at Parambikulam dam
32. Kumaon, Uttarakhand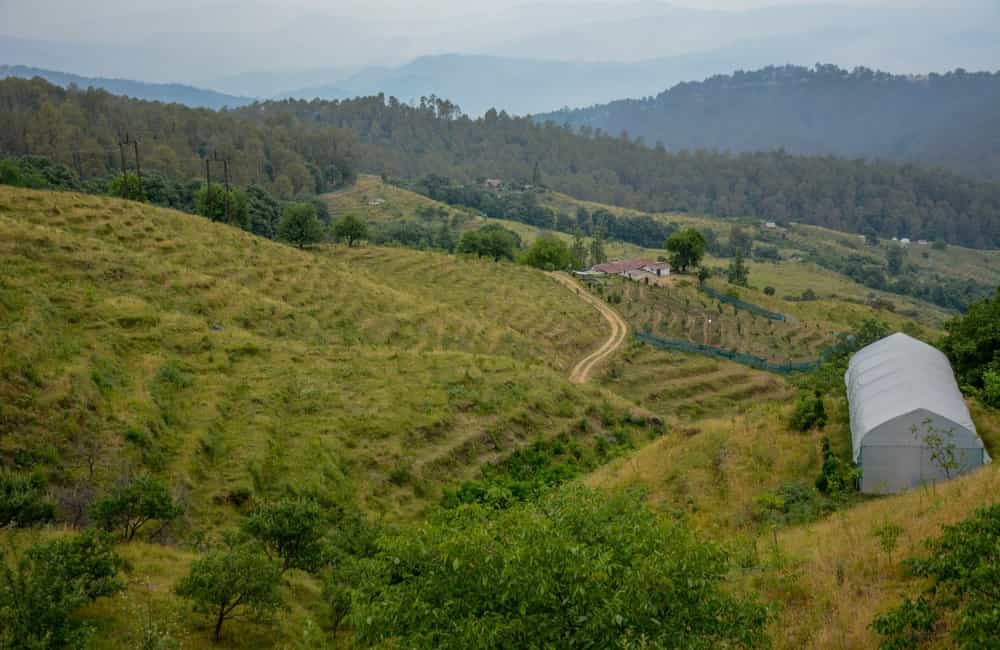 Kumaon is named after Vishnu's tortoise incarnation, Kurmavatar. The first Indian national park, Jim Corbett, located here. In this location, trekking is most popular. Trek across Kumaon's Himalayan glaciers. However, Nainital and lakeside schoolchildren are escorted on nice paths.
Places to visit in Kumaon: Ranikhet, Almora, Champawat, Munsiyari, Kausani
Things to do in Kumaon: Mukteshwar adventure sports, Pithoragarh nature walks
33. Manipur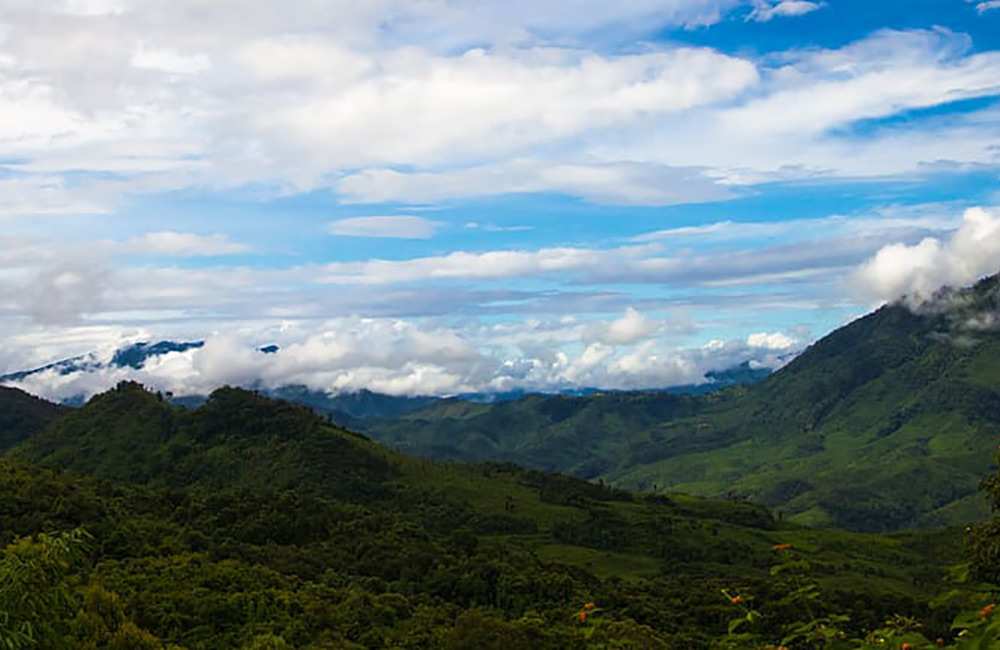 Manipur means "the jewelled land". This comes as no surprise as the state is blessed with exquisite dance forms, music, traditions and delectable cuisines. One of the seven sisters of India, Manipur celebrates festivals with traditional dance and music. The Yaosang festival is held on a full-moon day in March. Also, the Manipur Zoological Garden is a must-visit where you can spot the rare sangai deer.
Places to visit in Manipur: Purul, Mao, Yangkhullen at Senapati, Andro Shantheil Natural Park, Sirohi National Park, Loktak Lake, Kangla Fort, Manipur State Museum, Keibul Lamjao, Khongjom War Memorial, Nillai Tea Estate.
Things to do in Manipur: Trek at Thoubal and Dzukou Valley
34. Mahabaleshwar, Maharashtra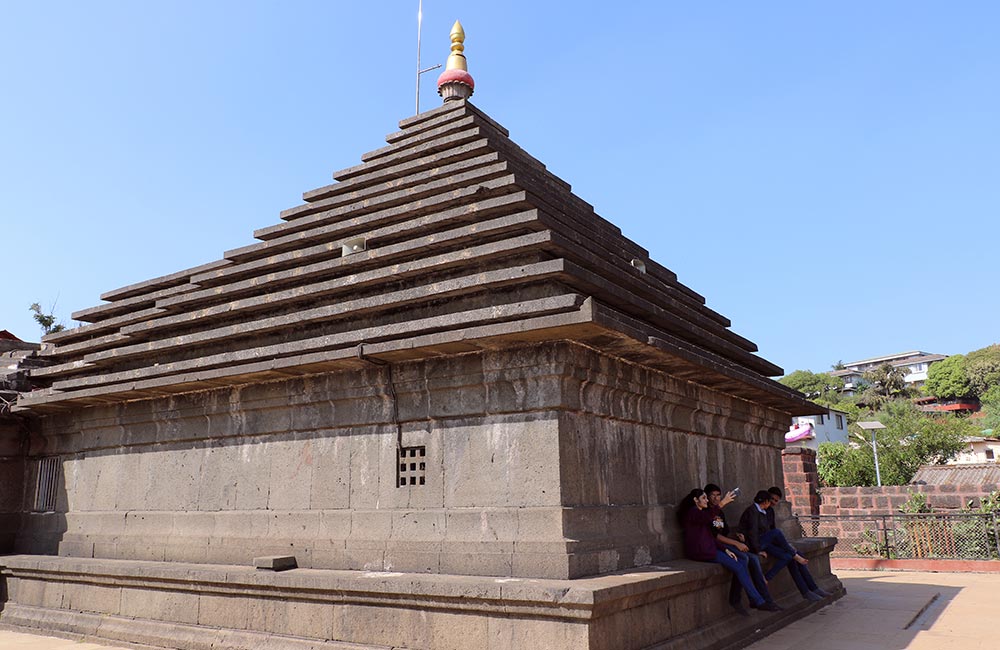 The first thing that comes to mind when you think of this hill station is strawberries. Expect to relish the juiciest strawberries you will ever eat in India at Mapro Garden. The Dhobi waterfalls is a major attraction in Mahabaleshwar making it the perfect weekend getaway for those living in the same state – Maharashtra.
Places to visit in Mahabaleshwar: Wilson Point, Bombay Point, Arthur's Seat, Elephant's Head Point, Pratapgarh Fort, Mahabali Temple
Things to do in Mahabaleshwar: Explore Lingmala waterfall and Venna Lake by boat.
35. Mcleodganj, Himachal Pradesh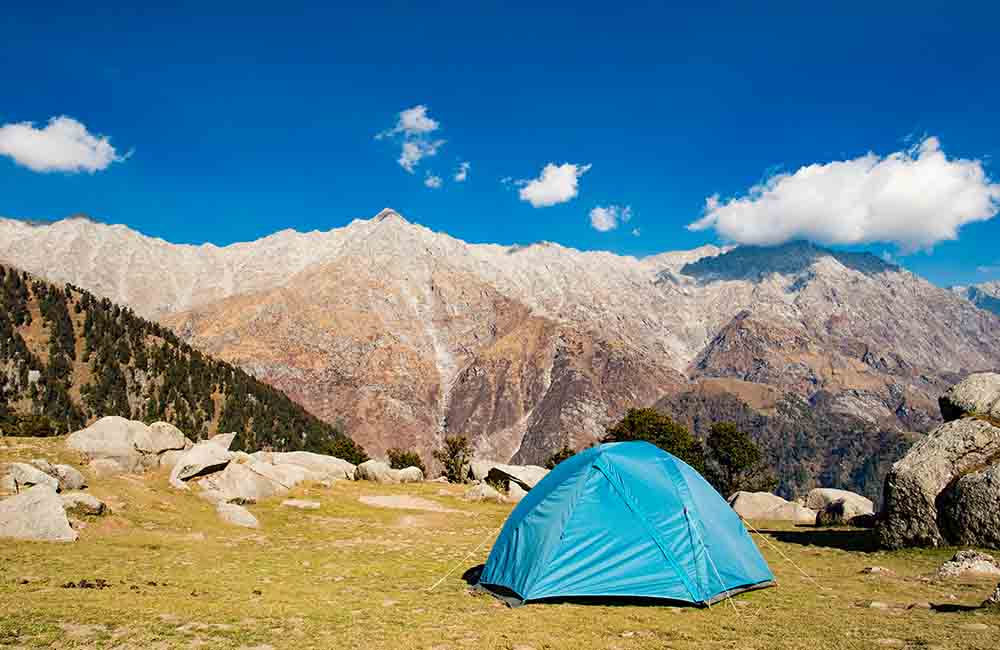 Mcleodganj, Himachal Pradesh, is known as Little Lhasa. Its gorgeous weather and breathtaking mountains are ideal for family relaxation. Enjoy peace in Tsuglakhang and Namgyal monasteries. Make your vacation more memorable by boating on Dal Lake. Its panoramic view and clean air will provide a break from city noise.
Places to visit in Mcleodganj: Bhagsu Falls, Bhagsunath Temple, Kora Circuit, Tibetan Institute Of Performing Arts
Things to do in Mcleodganj: Yoga, spa, and walking along the Triund and Kareri rivers
Related Questions
Is March a good time to go to India?

Visit India between October and March for pleasant, sunny, and dry weather. North sky are clear at this moment. However, December and January are chilly with fog, and the upper Himalaya may be quite cold with sharper mountain vistas.

Which destination is best to visit in March?

37 Best Places To Visit In March In The World

Paris – France.
London – United Kingdom.
Rome – Italy.
Crete – Greece.
Barcelona – Spain.
Prague – Czech Republic.
Marrakech – Morocco.
Istanbul – Turkey.

Which is the cold place in March India?

Gangtok is chilly in March. Sikkim Tourism is centered around its stunning capital. Gangtok, one of India's top March destinations, has several attractions.

Which season is best to visit places in India?

From December through early March, India is best visited. From April forward, the nation is warmer, and most areas experience the summer monsoon in June, July, August, and September.

Why is March the best month in India?

India in March can best be described as a warm but less-crowded month, with one of the most enjoyable festivals – Holi – the festival of colours. Further, March signals the end of the cool and touristy winter season. Mid-March onwards is when the summer starts settling in.

Why is March important in India?

1st March – Zero Discrimination Day
Zero Discrimination Day is commemorated worldwide on March 1 to promote dignity for everyone regardless of age, gender, ethnicity, skin color, height, weight, etc. Butterfly symbolizes Zero Discrimination Day.