Events
A Comprehensive Guide to Visiting Pune Within 100 km
Sinhagad
If you're looking for places to visit near Pune within 50 km, Sinhagad should be on the top of your list. The name Sinhagad literally means 'lion's fort'. The fort is located on a hilltop, about 35 km away from Pune, but is far removed from the chaos of the city. The ancient ruins, although in shambles, are something to be admired. Trekking to the top of the hill is an experience worth the effort. The palace and fort also serve as a watch point to capture some mesmerising photographs. Most people also tend to visit the nearby water body, Dev Taaki. It contains fresh water throughout the year.
Adlabs Imagica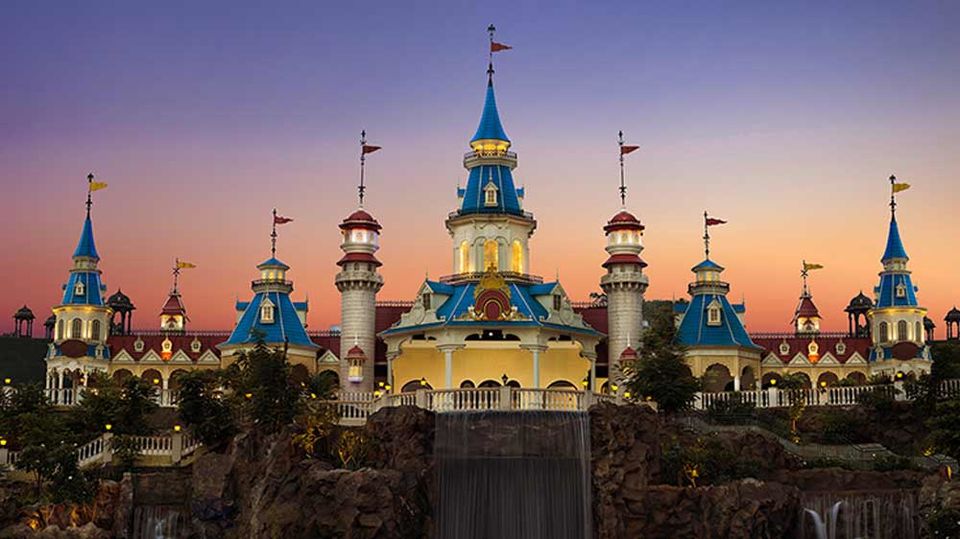 Looking for a convenient get away but don't want to travel far? Adlabs Imagica it is for you. One of India's leading family holiday destinations, offering a gamut of interesting and unique entertainment experiences under one roof through its international standard theme park, a Mykonos themed water park and the largest snow park that India has ever seen.
How to get there Khopoli has direct local trains to Mumbai and Karjat station for the rest of the rail network. The train station is 15 minutes from Imagica. Imagica also offers Ghar Se Ghar Tak personal taxis and fantastic rates on vehicle packages, car add-ons (including chauffeur-driven A/C cars), and bus add-ons.
Where to stay:
Connected to the park is Novotel Imagica, a hotel that offers customised stay packages, acting as a basecamp for guests to relax and unwind. Imagica is the perfect hangout for school picnics, corporate visits and family drive-away spot alike. It is also the ideal magical venue for theme weddings, photoshoots and memorable celebrations. The unique indoor and outdoor rides, along with the plethora of engaging activities at Imagica offers makes it an 'all weather entertainment destination' that provides a compelling experience for every guest at every step.
Panshet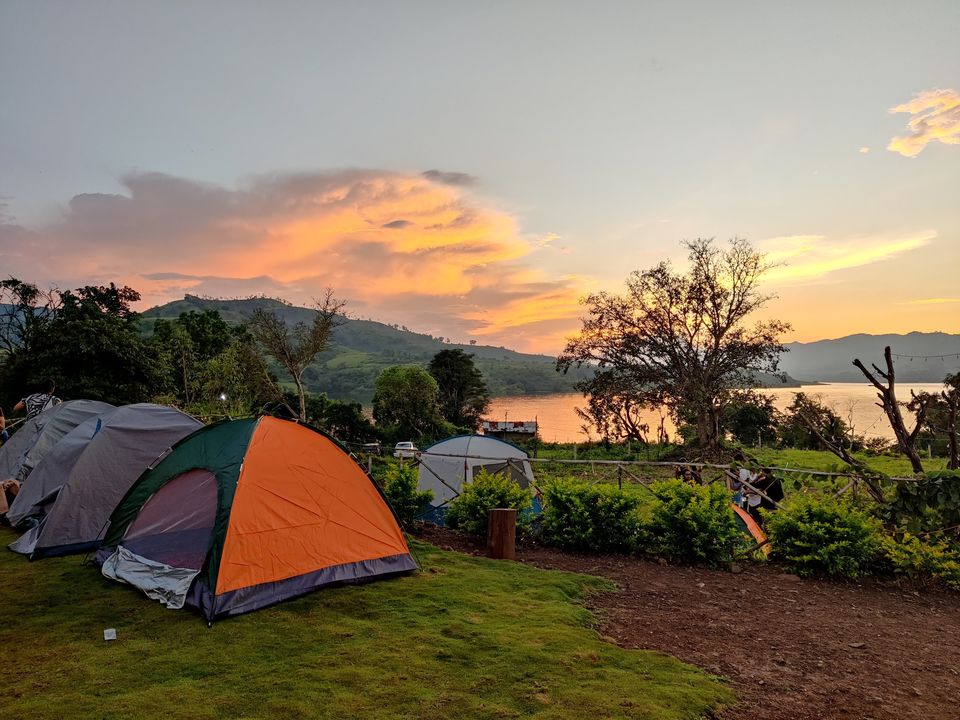 Most of the tourist places near Pune are actually hill stations. A short escape to the hills is perfect to beat the din of the city. If you haven't been here already, Panshet could be another popular place to visit. If you are in the mood, you can always indulge in a few water sports. From jet skiing to kayaking and much more, adventure is endless here. This spot is also perfect for families who need to bond after a week of being apart due to conflicting schedules.
Kamshet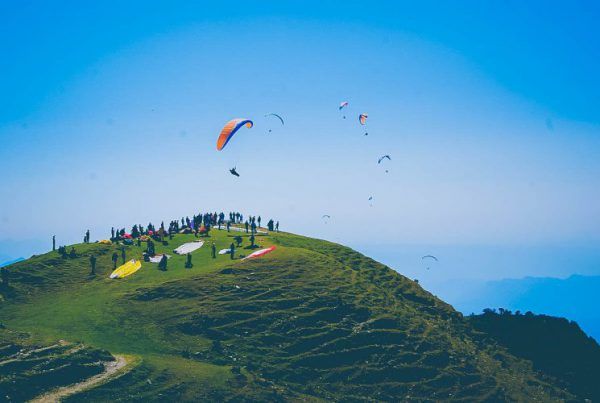 Have you considered paragliding? If so, Kamshet is worthwhile. Small villages surround this location near the city. Gliders fly all day. Besides fortifications, this weekend getaway offers many subterranean temples. Despite its remoteness, Kamshet is worth a visit. Visit Vadivali Lake, 12km from Kamshet, if you can.
Distance from Pune: 48km
How to reach: Pune-Kamshet buses run regularly. This route has commercial and state-run buses. Kamshet Railway Station is closest.
Where to stay: Kalpa Kutti The Eco Hamlet, Nirvana Naturestay
Top things to do Paraglide, hike the caverns, or visit Vadivali Lake near Kamshet.
Lavasa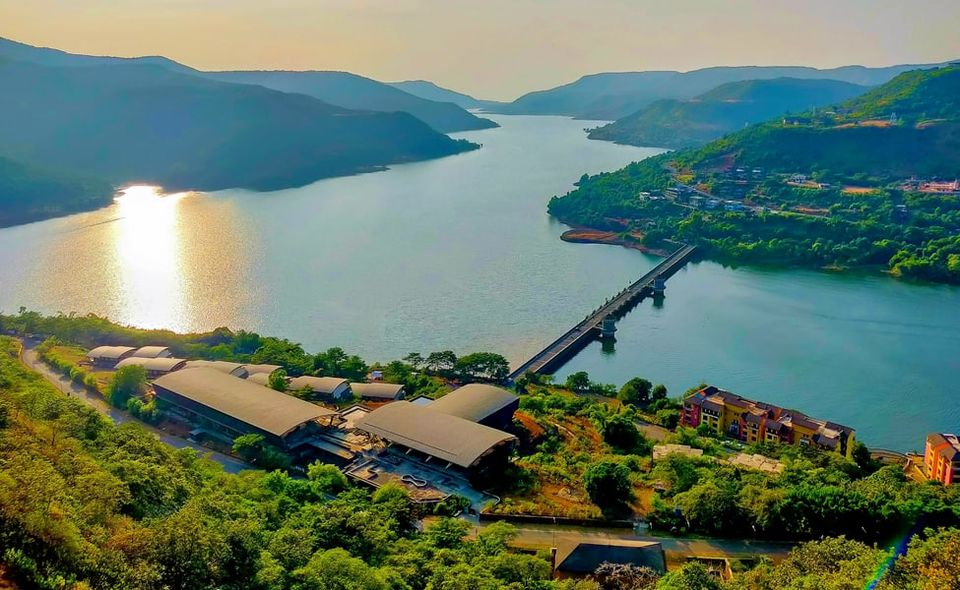 Lavasa, India's first private planned city, is a renowned tourist destination near Pune. Thus, you may enjoy peace and civilization. The community has 25,000 acres of vegetation. Escapees from the city love it.
Visapur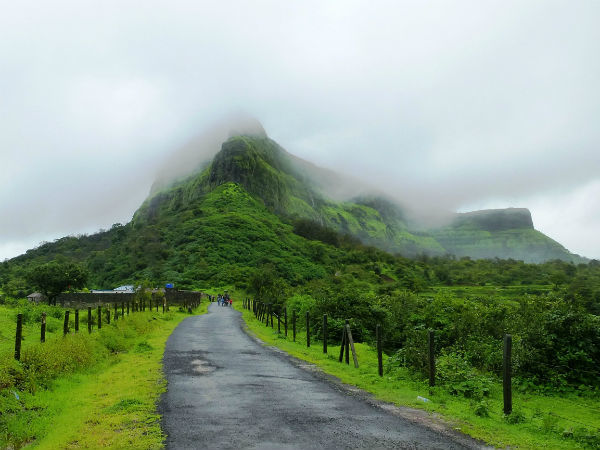 Visapur is one of Pune's favorite weekend getaways for hiking. After crossing the Lohagarh pass, the road turns hazardous, so be cautious. The hilltop has many waterfalls, although the stairs are steep. After rain, fresh waterfalls appear at Visapur Fort on the hilltop. Visapur is unique near Pune due to its many water bodies along the plateau. The Pune-Mumbai motorway is visible from the fort wall.
Lohagad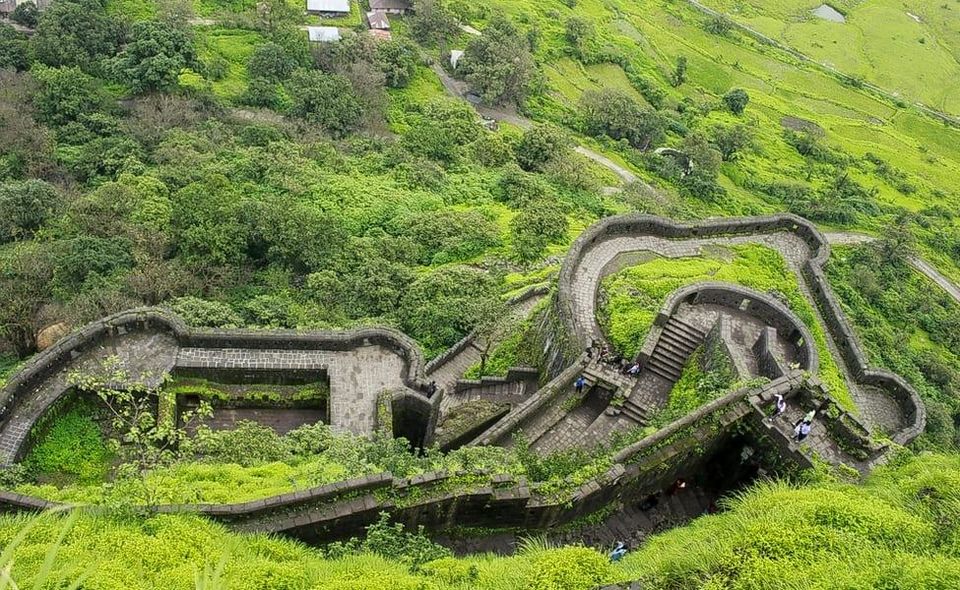 Lohagad—"iron fort"—was Chhatrapati Shivaji's capital. The neighboring Visapur Fort is a symbol of power. Trekking to the Lohagad Fort and seeing the Bhaja and Karla Caves in one day is popular near Pune.
Torna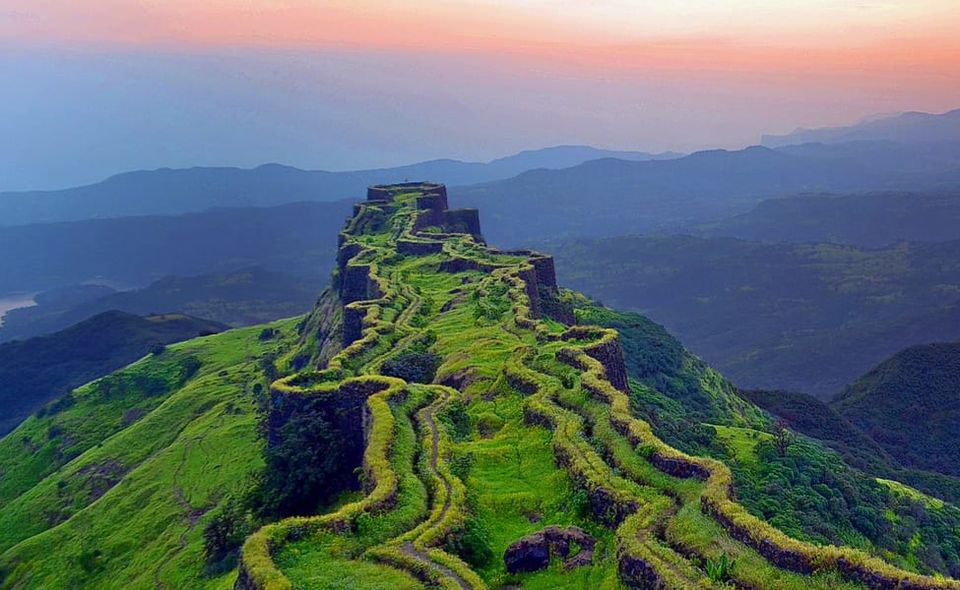 Torna is perfect for urban trekkers. Prachandagad is its common name. The district's tallest fort covers 1.4km. Trek to Jhunjar Machi and Budhla Machi to reach the peak. You may reach Rajgad directly from there. Torna is one of Pune's most-visited tourist destinations within 100km due to its easy walk.
Distance from Pune : 70km
How to reach Take a state transport bus from Swargate in Pune. From Velhe, you'll climb up to Torna.
Where to stay Paradise Country Panshet, Heritage View Resort Rajgad
Top things to do Hike to Torna Fort, camp at the base, and enjoy Sahyadri vistas.
Lonavala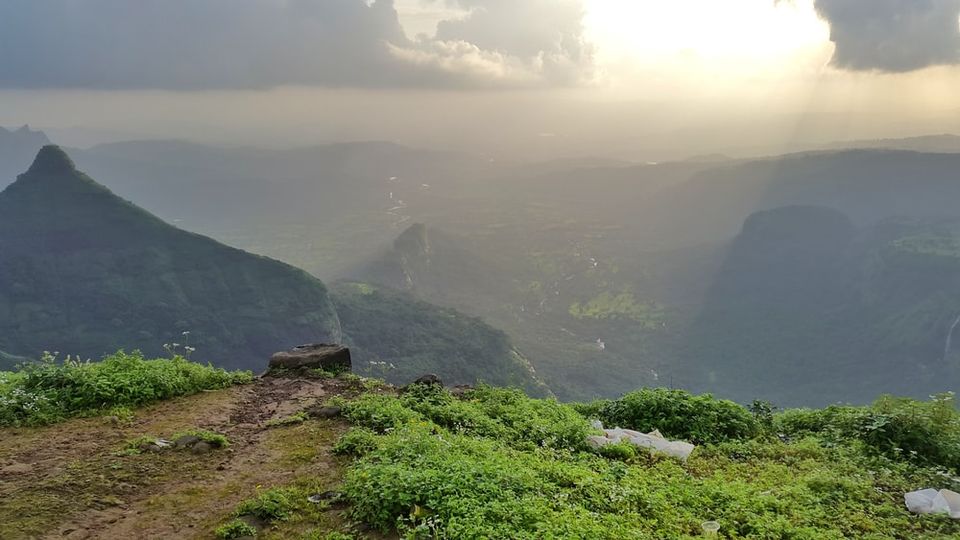 Lonavala is Pune's top monsoon tourism destination. It's one of Pune's most stunning 100-km destinations, about two hours away. This Sahyadri Ranges retreat is perfect for city escapees.
Distance from Pune: 66km
How to reach Pune-Lonavala trains run directly. Most choose to drive, cab, or cycle.
Where to stay: Fariyas Resort, Pavana Lake Tent House
Top things to do: Visit the hill called the 'Duke's Nose' or caves like Bhaja and Bhedsa for an adventure that will thrill you. Try water rappelling at Durshet, visit a rice plantation or camp out at Maval—you won't run out of options when it comes to doing things at Lonavla
Khandala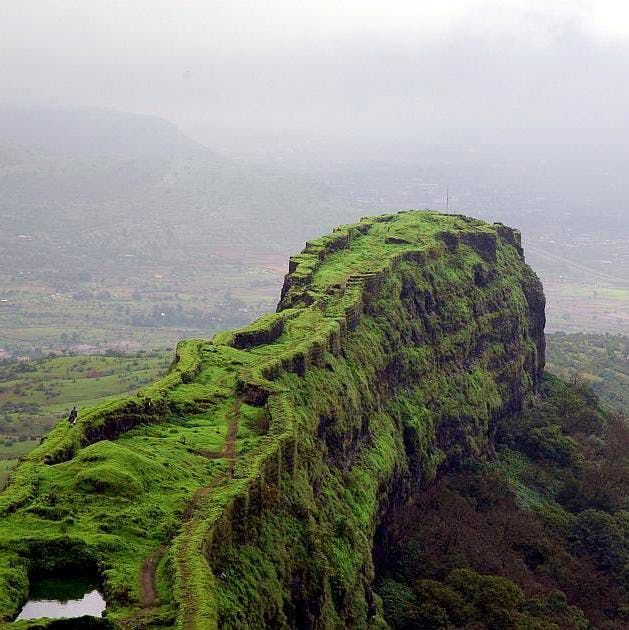 This famous hill station at Lonavala is another fantastic spot to visit near Pune within 100km. City residents come here to unwind. Khandala is a good getaway.
Distance from Pune: 69km
How to reach Khandala has decent road and transport connections to Pune through Lonavala. Khandala-Lonavala buses run. Khandala is nearby.
Where to stay: Velvet County Resort & Spa, Hotel Clarissa
Top things to do Visit Kune Waterfalls, Bhor Ghat, Ryewood Park, Karla Caves, and Kune Falls.
Panchgani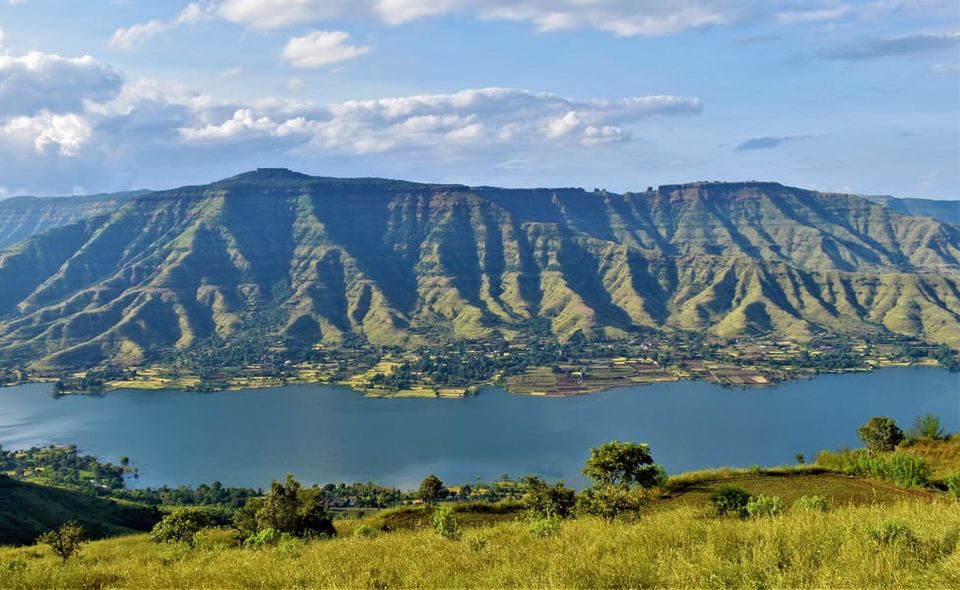 Panchgani in Pune is wonderful. This lovely town situated in the middle of the five Sahyadri hills. British rulers utilized here as a hideaway. It now draws national visitors. Dhom Dam over the Krishna provides a tranquil lake. Panchgani is one of the top 100-km-from-Pune destinations.
Distance from Pune: 102km
How to reach Pune-Panchgani direct buses run often. Wathar, Panchgani's nearest railway station, is poorly linked. However, biking or driving is ideal.
Where to stay: Hotel Malas, Trinity House
Top things to do: Visit one of the numerous strawberry fields, camp, ride a bullock cart or tractor, bird watch, or walk.
Tamhini Ghat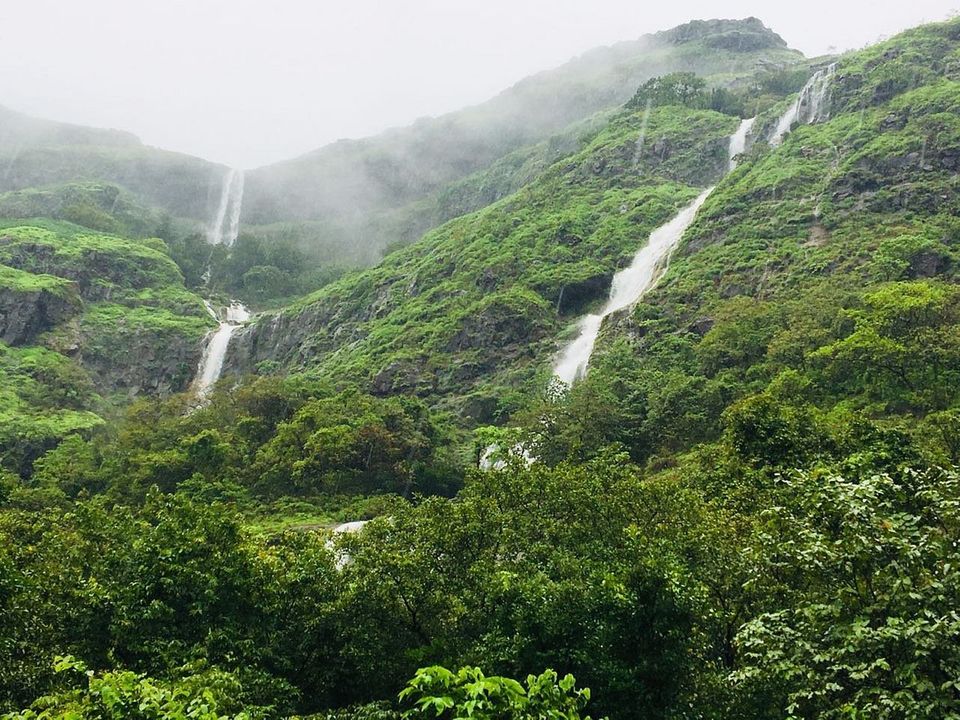 Tourist destinations around Pune don't need 5-star resorts, right? Tamhini Ghat's natural beauty and tranquillity are its appeal. Find a quiet location to meditate here. Mountain and waterfall photos will captivate you.
Bhimashankar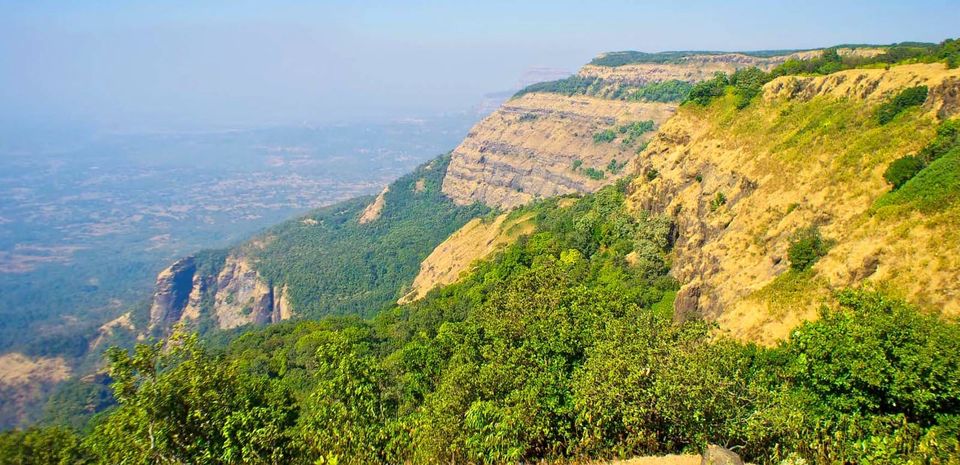 Pack your things for this gorgeous hiking destination in monsoon. This site will thrill adventurers and nature lovers. This renowned tourist spot in Pune is known for its greenery, endless mountains, bizarre waterfalls, and local foods.
Distance from Pune: 120km
How to reach Bhimashankar is best reached by bus or taxi from Shivaji Nagar Bus Station.
Where to stay : Hotel Center Point, Jamrung Hillside Camping
Top things to do: Visit Bhimashankar temple, see mountains, greenery, and waterfalls.
Wai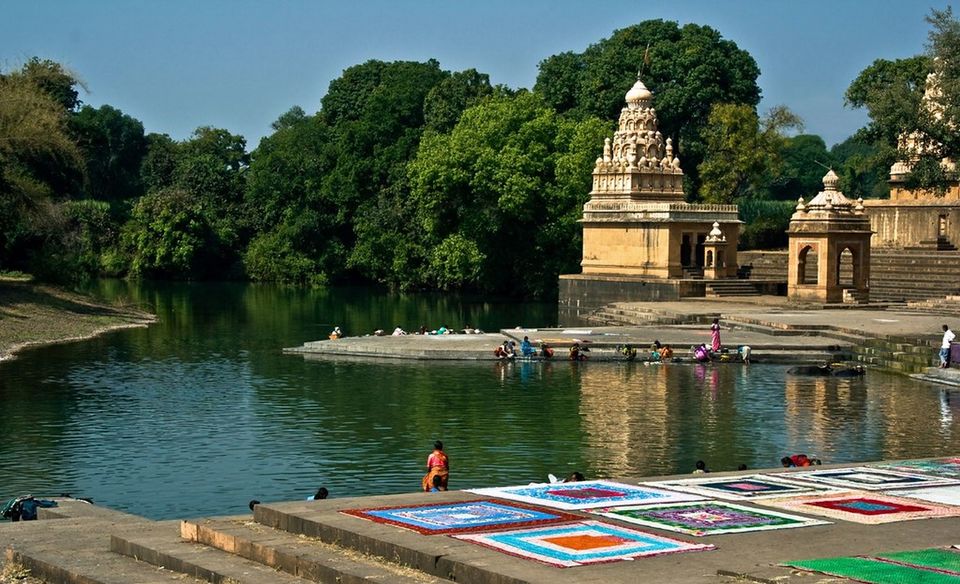 On the Krishna River, this charming spot. It's one of Pune's top weekend getaways. Wai is for adventurers. After a long workweek, camping and adventure activities are fantastic stress relievers. It's one of Pune's top 100km destinations in Satara District. Viratnagar, its former name, is still a location of ruins and natural beauty.
Distance from Pune: 89km
How to reach: Pune-Wai buses run straight.
Where to stay: Hotel Pearl, Hotel Kiran Garden
Top things to do: Go rafting, kayaking, river crossing, or hiking. Camp and stargaze.
Malshej Gha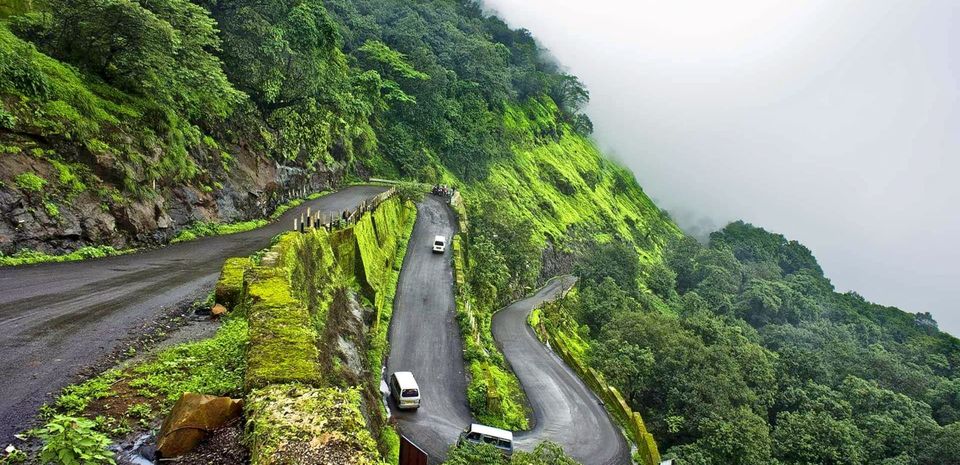 The mountain pass has a diverse ecosystem. From here, valley vistas are stunning. Animals abound in the woodlands. Pune's 200km attractions aren't hard to discover.
Distance from Pune: 120km
How to reach Maharashtra state transport corporation buses link Malshej Ghat to all main nearby destinations. Pune buses are convenient.
Where to stay: Saj By The Lake, Hotel Girija
Top things to do Tigers, leopards, rabbits, peacocks, and flamingos may be seen. Trekking pathways pass waterfalls and beautiful mountains.
Mahabaleshwar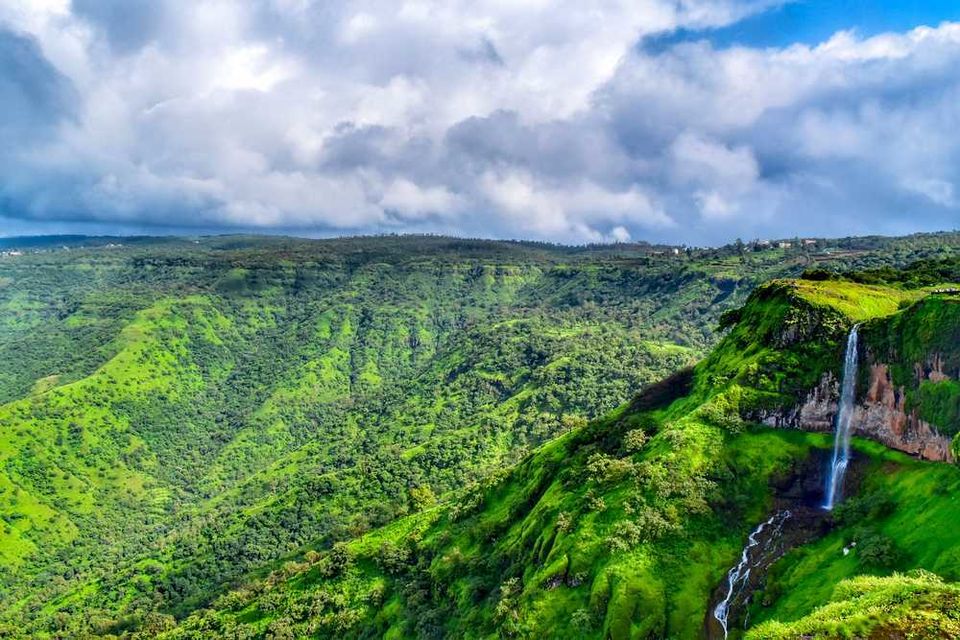 Mahabaleshwar is essential to every Pune weekend vacation. Valleys around the vast plateau. Mahabaleshwar is a renowned picnic location near Pune.
Distance from Pune : 121km
How to reach Swargate-Mahabaleshwar buses go directly. Car rental is great.
Where to stay : Berry Hill Resort, The Mountain Pearl Resort
Top things to do: Pratapgad Fort, Venna Lake, Parsi point, and Elephant's head point provide beautiful Sahyadri vistas.
Shivneri Fort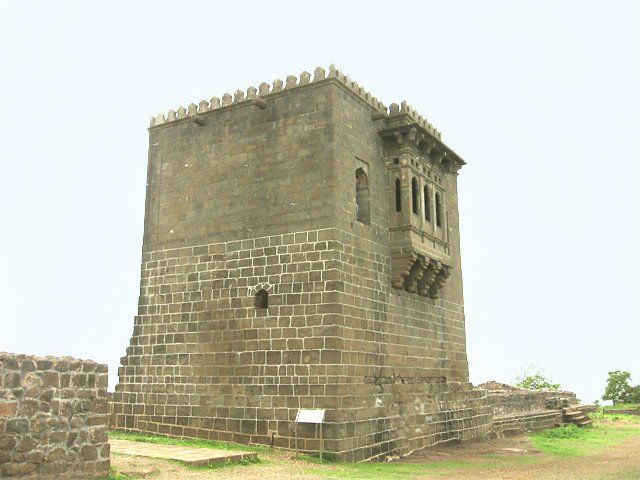 A short drive will get you to one of the most historically important places near Pune—the birthplace of Shivaji Maharaj. Shivneri is a popular trekking spot in the region and when you reach Shivneri, you will find a number of water bodies as well as statues of Shivaji and his mother Jijabai. It's a pretty easy trek, so you can also take your family along.
Alibag
Alibag (Alibaug), a seaside town south of Mumbai, located 142km from Pune. Alibaug has beaches, forts, and temples. Radisson Blu Resort and Spa, a popular Alibaug resort, offers swimming, spa, and health and fitness facilities to help you relax.
Distance from Pune : 142km
How to reach Pune has direct buses. It's best to drive.
Where to stay Lotus Lake View Resort, Radisson Blu Resort and Spa
Top things to do: Alibag Beach, Alibag Fort, Siddheshwar Mandir, Khanderi and Underi Islands, Varsoli Beach, Nagaon Beach, Kolaba Fort,
Lenyadri Hill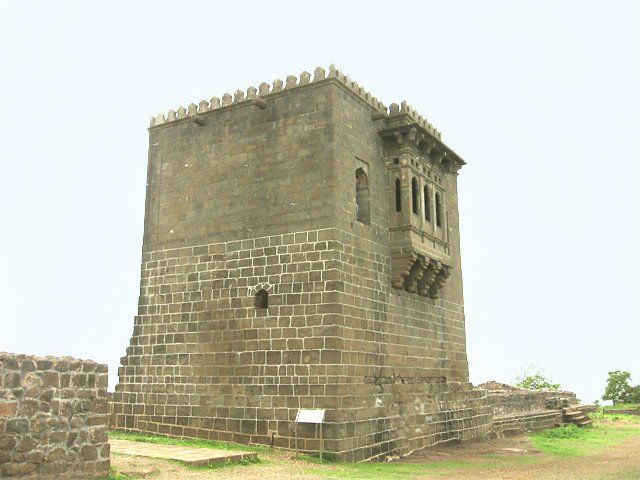 Lenyadri, also known as Ganesa Lena, is a hill 5km north of Junnar in Pune district with 30 rock-cut Buddhist caves. "Lenyadri" means "mountain cave". Lenyadri lets visitors experience nature. It's one of Pune's hassle-free destinations. Rejuvenate here.
Kolad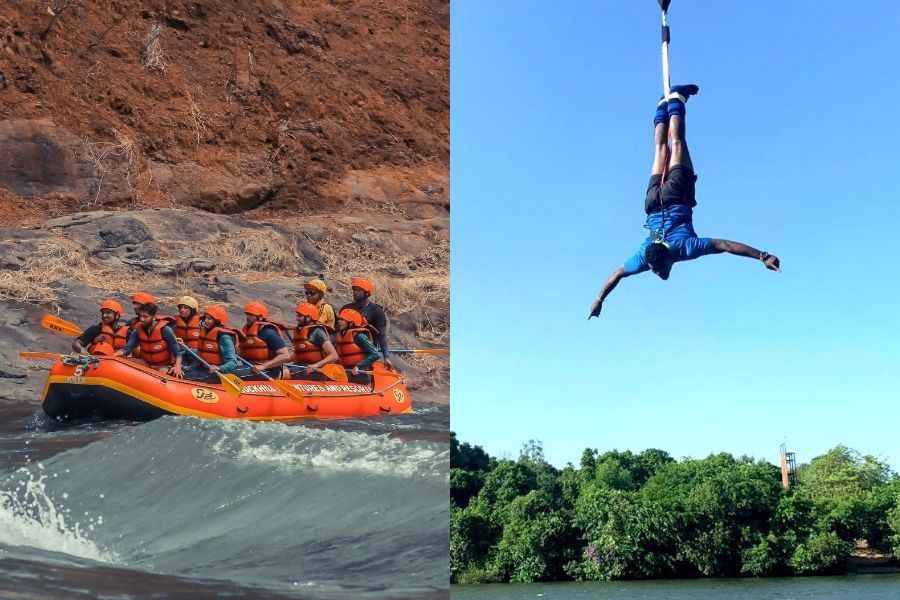 Kolad is another Pune attraction. Charming little hamlet. The Kundalika River and greenery make the location wonderful. Adventurers abound. Nature enthusiasts will adore this lovely site. Family outings are ideal.
Distance from Pune: 145km
How to reach: Pune-Kolad state buses are plentiful. Pune-Kolad trains are not operated by Konkan Railways.
Where to stay: Kundalika Rafting Camp, A Nature Trails Resort
Top things to do : Try water rafting, waterfall canoeing, and rappelling.
Rajmachi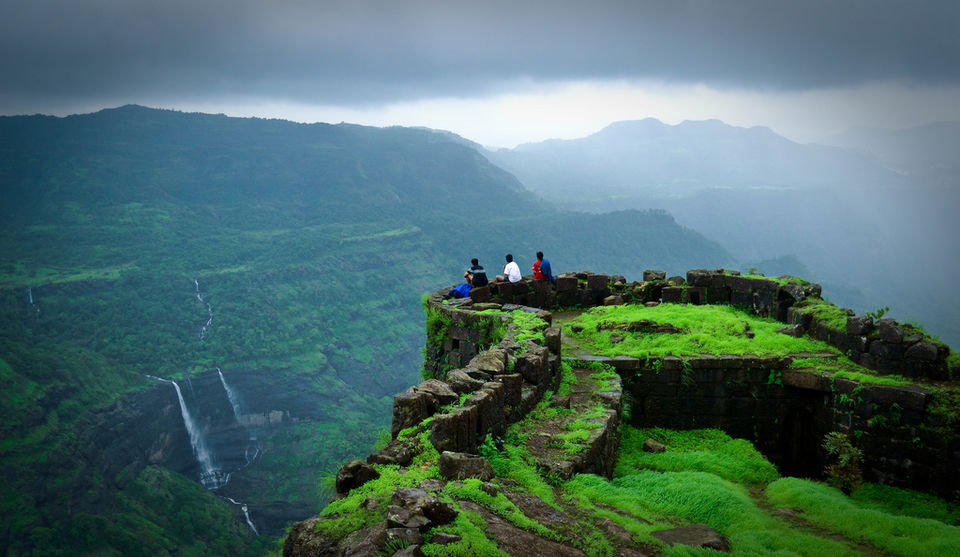 Situated in the Sahyadri ranges, Rajmachi offers tourists a few days of peace. It is home to a large fort – a popular hiking place to visit near Pune for adventure seekers. The trek routes have their starting point at Lonavala or Kondivade. Between the thick foliage, one can also find waterfalls and streams. This place is perfect when you want to catch up on some reading and relaxation.
Distance from Pune: 171km
How to reach Nearest train station: Lonavala. From here, take a taxi to Udhewadi village, the Rajmachi Fort hike base camp.
Where to stay : Rajmachi Base Camp, Fariyas Resort
Top things to do Visit Rajmachi Fort from Lonavala or Kondivade, via waterfalls, streams, and vegetation.
Satara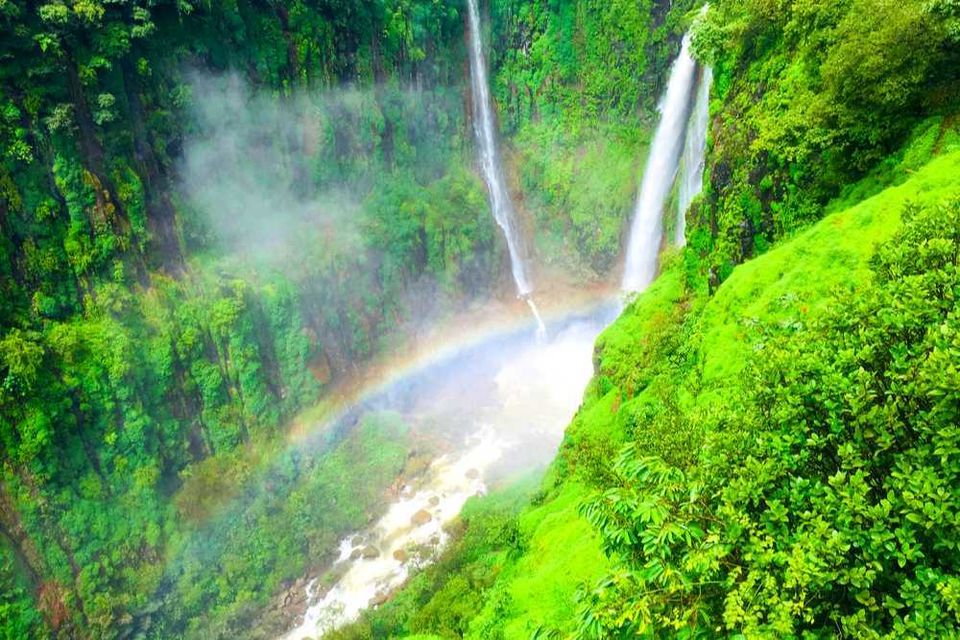 The Krishna-Venna confluence is the site of this lovely weekend getaway. Maratha Empire capital. Satara is a popular historical destination near Pune due to its significance. Satara, 113km from Pune, has several surprises to discover.
Matheran
Matheran is widely regarded as India's smallest hill station. Therefore, it is perfect for a weekend getaway away from city life. Residents of both Mumbai and Pune take long drives here for a holiday with family or friends. This gem of a place gives you close to 28 viewpoints from the site. The views are absolutely breathtaking. If you enjoy taking in the beauty of a sunset, this is the place for you. It definitely makes for one of the most amazing places to visit near Pune.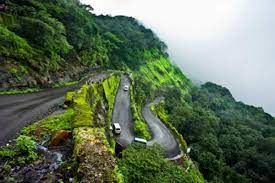 Distance from Pune : 124km
How to reach Trains go here. Reach Neral Railway station. Matheran is reached by toy train from Neral.
Where to stay: Bombay Backpackers, Spring Wood Heritage
Top things to do: Visit Louisa, Porcupine sunset, Alexander, and One Tree Hill sites. Visit Pisarnath Temple, Matheran Shiv Mandir, and Charlotte Lake. Include a day trip to Vikatgad.